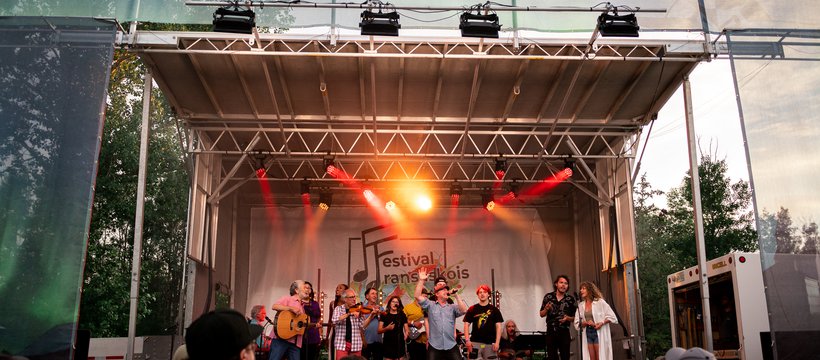 Fransaskois Festival Success a Result of Strong Leadership
In this issue

Engage - Volume 13, Issue 1, Fall 2022
After two long years, the Conseil culturel fransaskois (CCF), was finally able to celebrate the francophone culture in-person, with the return of its Fransaskois Festival this summer. Getting the festival back on track after two years of COVID, required a commitment from leadership to get programming back to normal.
Conseil culturel fransaskois has helped bring the Francophone community together to celebrate the shared culture for the past 48 years.
Suzanne Campagne, executive director, CCF, says Saskatchewan brings together francophones, "from all over the world – we're unique. We have a lot of diversity." In addition to the French settlers from Quebec, Saskatchewan is also home to many newcomers from French-speaking countries. And, while the number of people who claim French as their first language is slowly diminishing, the number of people who are bilingual is on the rise, pushing the French-speaking population in Saskatchewan up to almost 60,000 people, according to most recent census figures.
Campagne notes that the strength of the CCF lies in the fact that the board is made up of leaders "from a whole range of sectors," allowing the organization to play a leadership role for the fransaskois community at large. "We take on that leadership proudly."
Besides sending musical groups into communities and schools year-round, as well as, financially supporting francophone groups throughout the province, the annual Fransakois Festival is its most important project, explains Campagne. "It's a celebration of the French language and what it means to us and our culture."
During the pandemic, the Festival carried on in 2020 and 2021 in a virtual format. According to Anne Brochu Lambert, president, CCF, says "Putting on a festival online is a great challenge," which has turned everyone involved "into pioneers."
In 2022, the Fransaskois Festival returned to bringing people together in-person. Held at Pike Lake Provincial Park, south of Saskatoon, the Festival is described as "a three-day showcase of Francophones' artistic and cultural heritage". It is Saskatchewan's only french-language summer music festival. In existence since 2014, it is a mix of music, theatre, art exhibits and book launches, and this summer's festival featured a number of musical acts, including several from saskatchewan, circus-style acrobatics and kids' games.
Attendance, which usually varies from 400 to 700 people, was down this year, with many people still wary of COVID. "We had hoped for more," Campagne says, but the presence of a "huge amount of young families" bodes well for the festival's future.
Campagne notes that, "There's a whole culture here, not just a language." And, events such as the festival, "are really important for fostering that. We're able to present the whole ecology of the French community here in Saskatchewan."
The council began as the Commission culturelle de la Saskatchewan in 1974 – the name was changed in 2000 – and will be celebrating its 50th anniversary in 2024. Work has already begun on that celebration, which includes new partnerships with other cultural organizations such as the MacKenzie Art Gallery and New Dance Horizons. "We're trying to think outside the box," Campagne says.
The Conseil culturel fransaskois receives Annual Global Funding from Sask Lotteries.