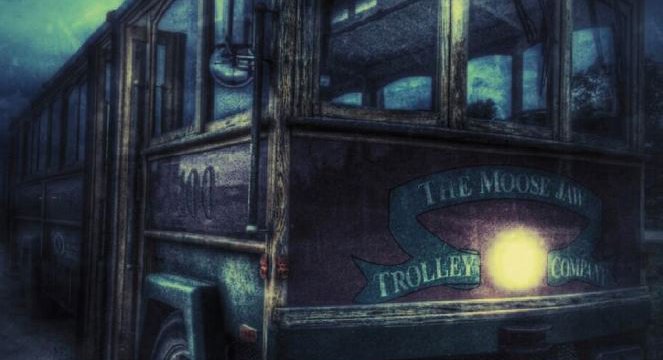 Haunted History and the Darker Side of Heritage
In this issue

Engage - Volume 5, Issue 2, Winter - Spring 2015
The words 'heritage' and 'history' on their own do not always elicit excitement. But add the word 'haunted' and the past takes on a mysterious allure.
In Radville, a town of 900 people located 140 kilometres south of Regina, a haunted history walking tour has presented an alternative interpretation of heritage since the summer of 2012. The Moose Jaw Trolley Ghost Tour is another tour that has taken tourists for a spookily historical ride for the past five years. These two popular Saskatchewan tours are examples of a growing trend in heritage interpretation.
Candis Kirkpatrick, executive director, Tourism Moose Jaw Inc. (TMJ), recognized the potential of a haunted tour six years ago. TMJ has run a daytime trolley tour for several years, and Kirkpatrick was "looking for something else to offer visitors." Combining the trolley tour with ghost stories, she created a unique after dark experience.
In Radville, Kristin Catherwood wanted to develop an attraction that simultaneously highlighted Radville's fascinating past and attract a wide range of people, particularly younger generations. For Catherwood, a casual remark about the "creepiness" of a 100 year old building sparked an idea, and she tracked down every story she could find about Radville's "darker side" - those left out of the history books.
A few ghost stories about local buildings evolved into a narrative which interweaves real historical events with reports of the supernatural witnessed by local residents, all laid on the foundation of Radville's built and cultural heritage. The Moose Jaw tour consists of ghost stories, local and urban legends, and true tales of Moose Jaw murders all set against the backdrop of Moose Jaw's historic buildings. Both offer an alternative view of the past which appeals to people of all ages and backgrounds.
The product of haunted heritage tours is the stories themselves, and every story needs a good storyteller to bring it to life. The role of the guide as both performer and instructor is integral to tour success. In Kirkpatrick's words, "The guides are the tour." Whether skeptic or believer, paranormal enthusiast or history buff, participants will place their own unique perspective on the stories – it is just important they are told well. The heritage embedded within them speaks for itself.
Stories of murders, hauntings, Ku Klux Klan, and illegal activities are exciting, but they also shed light on a part of the past that is equally as relevant as the more mundane stories told in daytime tours. Such "dark" stories capture a facet of life that reminds us that our prairie ancestors, often idealized as moralistic pioneers, were real people with fascinating tales to be told.
The tours allow participants to see the past in a new light. Kirkpatrick explains, "We have many heritage buildings that take on a completely different significance once a ghost is thought to inhabit it." Radville haunted history tour participant, Jessica, remarks, "many people don't realize how much history they are standing on, and even fewer care to investigate it further. This [tour] makes the town's history accessible to more people in a fun and exciting way." Kirkpatrick summarizes, "As we say on the tour…'urban legend? Fact, or fiction? Or a little bit of both?'" Participants may come for the ghosts, but they leave with a new perspective of heritage.