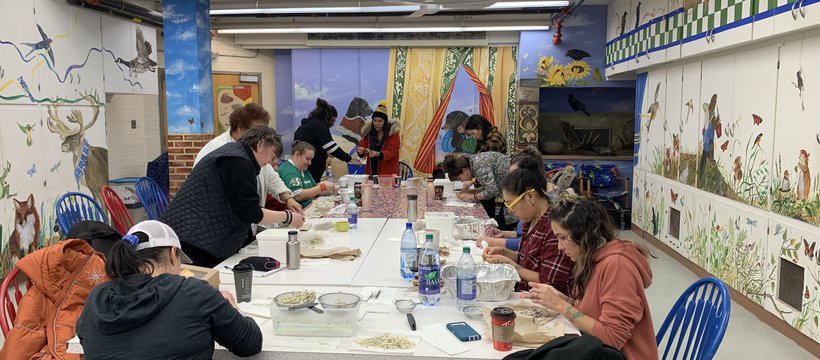 Incorporating Land-based Learning into Programming
In this issue

Engage - Volume 10, Issue 2, Spring 2020
The Royal Saskatchewan Museum (RSM) is once again expanding its Elder in Residence program. Now in its fourth year, the program that was created to promote Indigenous knowledge sharing now includes land-based learning from even more Indigenous Knowledge Keepers and Elders.
Theresa Walters, First Nations Program Specialist with the RSM, says the program has a deep connection to Mother Earth through cultural workshops.
"The land-based teachings are incorporated throughout the programming such as through traditional stories explaining our relationship with plants and animals," says Walters. "The land-based philosophy is based on a 'good way of life' through sacred teachings, ceremonies and songs. The response from the participants has been very positive."
Some of the programming that has taken place over the years with the Elder in Residence program Elders- Hazel Dixon and Harold Lavallee include relationship teachings, significance of smudging as well as storytelling. The Elders at the RSM also smudge and pray over the exhibits within the building daily.
Other workshops include moccasin making with Joely BigEagle-Kequahtooway facilitator and creator of Buffalo People Arts Institute and workshops with other artists that involve quillwork, an Indigenous art technique where the quills from a porcupine are dyed and used to lace intricate designs on leather and other material, or dreamcatchers.
All the classes are taught by Indigenous people who bring their own knowledge such as Indigenous filmmaker Chris Ross, and Jayda Delorme, an upcoming artist who has travelled the world to showcase her own painting and beading talent.
The various programming is offered throughout the year at the RSM, with each class supplying the material and instruction free of charge to those interested. Others included throughout the year are: National Indigenous History Month in June, Truth and Reconciliation day in September, and Saskatchewan Aboriginal Storytelling Month.
"We want participants to come away with a better understanding of Indigenous peoples. The program supports the connection between the generations - youth and Elders," says Walters.
Not only is the RSM offering opportunities for cross-cultural learning to the public, they are also supporting the Truth and Reconciliation Commission's Call to Action #63, which is about building capacity for intercultural understanding, empathy and mutual respect.
This project is supported through SaskCulture's Aboriginal Arts and Culture Leadership Grant.