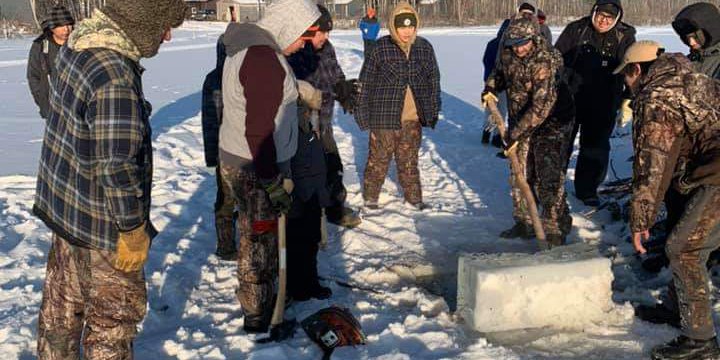 Reconnecting Youth to Mother Earth
In this issue

Engage - Volume 10, Issue 2, Spring 2020
A new program on the Onion Lake Cree Nation is pairing at-risk-youth with traditional Indigenous Knowledge keepers and Elders. The program is called "Introducing Cree Laws for Resolutions."
Tara Waskewitch, Youth Prevention Worker with Onion Lake Native Justice says the program was created in partnership with the Onion Lake Native Justice and the Onion Lake Healing and Wellness departments in an effort to keep youth out of the courts and connected to traditional Cree laws.
"We see and know the importance of land based healing and natural laws," says Waskewitch. "When residential schools were running a lot of our people had lost their ways, their language and through land based healing. There is hope to bring our people back"
Onion Lake Cree Nation, located 51 Kms north of Lloydminster has a population of just under 4000. The community is using land based learning to strengthen the bond between the young people and their traditions.
"Land based healing takes the individual away from all distractions like technology, drinking, drugs, gossip, people," states Waskewitch. "It's a time where they're alone with the land to reconnect to Mother Earth."
Camps are held each month for participants and Elders in northern Saskatchewan. Currently youth who are on probation with conditions for community service are involved with the program. They are taught traditional Cree ceremonies like sweats, smudging and given traditional teachings on the importance of being able to survive while on the land.
Groups are taken to the bush for three days where they are immersed in trapping, ice fishing, and camping, cooking and general understanding of living in the wilderness.
"My old man had told me I don't tell you what to do, you watch me and learn" says Onion Lake Elder Brent Dillon. "And that's the importance of the program being hands on."
The program's goal is to help the youth learn and retain their own cultural ways as an alternative to the courts. This allows youth to complete community services to their community while learning from Knowledge Keepers and Elders.
"The camps are to show each individual that they are capable of living on their own, to break away from our dependence on technology, running water, electricity - to humble and reconnect with the land," says Waskewitch. "It's touching their inner beings and awakening their inner-selves."
Waskewitch says she can see how the program is helping the youth with the amount of participation they are seeing from them. She says it's a preventative strategy on its own with more youth coming forward and wanting to be involved
"The more people attend the more people will be away from drugs, drinking, gangs." says Waskewitch. "The next trip is being planned for next month and will continue until November of this year."
With numbers of participants rising, both Onion Lake Native Justice and Onion Lake Healing and Wellness hope the program will continue to create positive change it is seeing in the youth already involved.
This program is supported through SaskCulture's Multicultural Initiatives Fund.