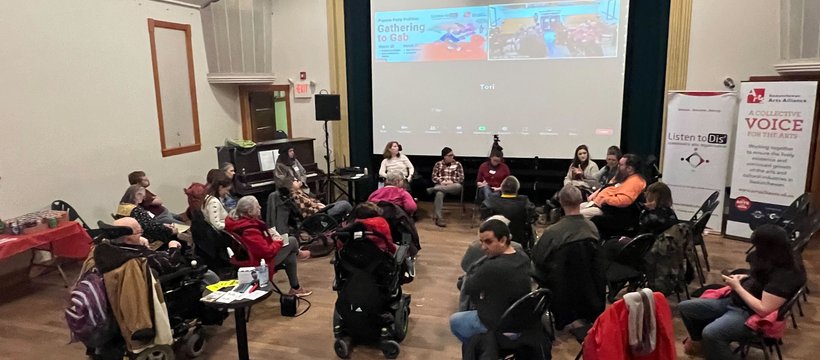 Increasing accessibility in organizations: Partnership helps shift culture around accessibility
The Pajama Party Politics event series started as a space for open conversations about accessibility of the arts in the province from a disability cultural lens. Discussions and learning led to work on a "living document" about accessibility, particularly in arts and cultural activity, in Saskatchewan.
The project, organized in partnership by Listen To Dis' (LTD) and the Saskatchewan Arts Alliance (SAA), started with the first Pajama Party Politics event in May 2022, which centred on the current climate of disability in the arts and the universal need for access.
After receiving positive feedback from the community, LTD and SAA discussed the lack of resources on accessibility, with a local focus in Saskatchewan, and took the next steps to create a sharable resource.
"There's definitely a need for this sort of resource. It's something that's never been done here yet, and I think that there is a real appetite for it," Em Ironstar, executive director, SAA, says. "There's so much interest in how the arts community can become more accessible."
Traci Foster, artistic director and founder, LTD, says that, the final document will be an easily digestible resource that centres the perspectives of people with lived experience of disability, which will provide access guidelines, and "help readers understand the way disabled community members experience the arts and cultural sector."
She notes that, "The standard way of understanding access is led by non-disabled people and professionals who lack lived experience of disability. We would like to continue to challenge and change this paradigm and systemic problem," Foster said. "We hope that it will tenderly guide and hold people accountable for what they are doing to create actionable difference for the disabled community in the arts."
Foster says that the document will also help lighten the load for Listen To Dis' team, who field daily requests from organizations and individuals interested in understanding or creating access to the disabled community. The overwhelming demand for their services includes frequent requests for unpaid work.
So far, the discussions that have taken place during the Pajama Party Politics events have helped the team consult with the community, learn about their experiences in the arts and culture sector, and spread the word about the upcoming resource document.