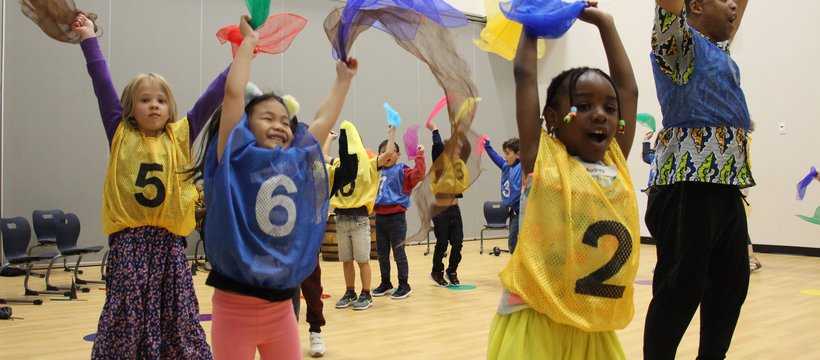 Learning Cultures and Building Literacy through the Arts
In this issue

Engage - Volume 10, Issue 2, Spring 2020
When Terrance Littletent showcases his hoop dancing to youth, he also shares traditional Indigenous teaching. As part of a pilot program funded through the Artists in School grant, artists such as Littletent introduced students from St. Kateri Tekakwitha School in Regina to the use of art forms – music and dance – to experience and understand other cultures.
The students were completely engaged and built confidence over the course of the program. One of the students says, "I was nervous about dancing with five hoops. I didn't think I could do it. But, look, I can use all the hoops!"
Not only did the program help the students express and engage with other cultures, it also created a learning opportunity for the teachers. For example, each of the hoops involved in Littletent's dance has a traditional Indigenous teaching associated with it. One of the teachers, Michelle Dizy says, "Since I am not First Nations, I often struggle to find the best ways to teach my students about First Nations culture. I learned as much as my students did during this project. I wish that every class that I teach would have the opportunity for such deep learning."
Dizy adds, "The learning that occurred during this project cannot be mandated by curriculum or planned in a long-range plan. This is learning that happens through the magic of music and dance. This is learning that touches the soul and changes a child. This is the difference that art makes." She goes on to say, "When a child says, 'Dancing the Gahu dance makes me feel brave,' when something like that happens, it's magical."
The Regina Catholic Schools Arts Education collaborated with local artists to provide diverse dance and music programming to the Kindergarten students with the goal of supporting literacy outcomes. There were five modules with lead artist Chancz Perry delivering a cultural awareness and sensitivity workshop for teachers; a creative dance, featuring Regina Symphony Orchestra violinist Katie Gannon; First Nations hoop dance with Terrance Littletent; Ghanaian dance and drumming with Godknows Kummasah; and international Orff Pedagogy barred instruments, such as the xylophone, with Sophia Yannitsos, who is also the Regina Catholic Schools Arts Education Consultant.
Perry says, "We're not teaching students to be actors or singers or dancers or hoop dancers, but we're using art forms as a vehicle for physical expression, for building social relationships, for gaining knowledge and understandings."
Artists in Schools is a Saskatchewan Arts Board program supported by funding from the Saskatchewan Arts Board, SaskCulture Inc. through the Saskatchewan Lotteries Trust Fund for Sport, Culture and Recreation, and the Government of Saskatchewan through the Ministry of Education.