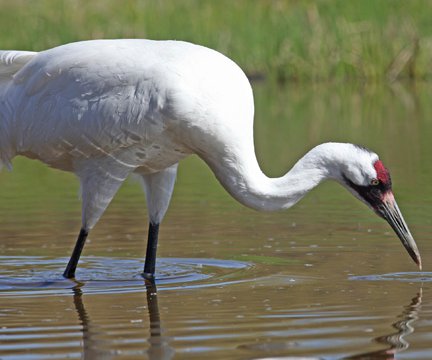 Luseland wild about Whooping Cranes
In this issue

Engage - Volume 2 Issue 4 Summer 2012
The Town of Luseland is preparing to welcome back a former resident. The Luseland and District Museum is planning to add a new wing to their centre that will focus on educating the public about Whooping Cranes. According to Val Finley, volunteer at the Luseland and District Museum, "The museum received a legacy this past December, which will enable it to build a much needed addition, the Whooping Crane Centre, onto the present building." The museum receives a SaskCulture Museum Grant that will assist in preparing the new exhibit.

"People like to visit places featuring natural history," says Finley. "This part of the province is a long way from Regina and the Royal Saskatchewan Museum. The proposed Whooping Crane Centre will be a great facility for locals, visitors and particularly for the students in the schools of the area. It will be a very interesting tourist drawing card for the west-central part of the province."

Creation of interactive displays of the Luseland area and featuring the Whooping Crane is planned for the museum's new wing. The Royal Saskatchewan Museum has donated a man-made Whooping Crane egg that was previously on display in their Whooping Crane diorama.

Other items for display include a copy of a 1922 government notice concerning the danger of extinction of these marvellous birds, and a large painted mock-up of Whooping Crane parents and their chick made out of ply-wood.

Finley believes it is very important for children to learn about Whooping Cranes, which is the tallest bird in North America, because the Luseland area was the flight path for these unique migratory birds. "We have had enthusiastic meeting with the school. At this point we see this as an ongoing educational project, which is very exciting," said Finley.

The Whooping Crane was declared an endangered species in 1967 after decades of population decline due to over hunting and habitat loss, which pushed the species to the brink of extinction with just 21 birds in the wild in 1941. Since 1941, conservation efforts have slowly brought the Whooping Crane numbers to around 400 in the wild today. Whooping Cranes are protected in Canada and the US under the Migratory Bird Convention Act.

Finley said she feels optimistic about Whooping Cranes coming back to the area since the International Crane Foundation has experimented with various ways of reintroducing the birds and they seem to be having success.

Having students involved with opportunities to learn about the bird through school will help to create an awareness of wildlife and the responsibilities of conservation that will ensure the Whooping Cranes' future, said Finley.