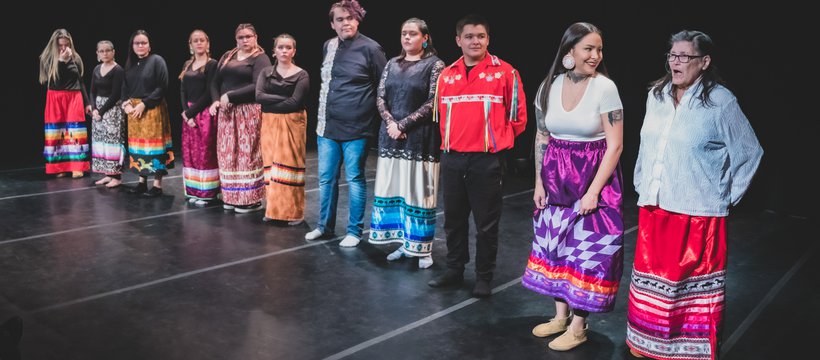 More Than Just Theatre: GTNT Students Connect to Their Cultural Identity
While engaging youth in first-hand theatre experience and mentorship helps create future theatre professionals, the Gordon Tootoosis Nīkānīwin Theatre (GTNT) has found it to be useful in connecting Indigenous youth to their culture.
Circle of Voices – GTNT's flagship program – continues to provide both theatre skills and cultural knowledge to Indigenous youth aged 14 to 25 in Saskatchewan. The program, held April to May annually, has been receiving support from Sask Lotteries, through SaskCulture's Aboriginal Arts and Culture Leadership grant (AACL), along with support provided to GTNT from SaskCulture's Multicultural Initiatives Fund.
Ed Mendez, general manager, GTNT, says the funding for Circle of Voices helps youth by creating opportunities to gain first-hand knowledge of what it's like to be a professional theatre artist. He adds that it is important for youth to learn the traditions of the past so they can have a deeper understanding of what it means to be Indigenous, so the traditions can continue to flourish in the future.
"The youth are our future, it's as simple as that. The shows we produce need to be relevant to the current generation and by engaging youth, we can ensure that the stories they tell have meaning to the community," he says. The youth are mentored by theatre professionals. "(As part of the program), there's a daily check-in with their cultural advisor both before and after these workshops so the youth can wrap these new-found theatre skills in the context of Indigenous cultural practices, and to ensure that they aren't emotionally and physically overwhelmed."
He adds that the organization also created programs, such as the Playhouse Program, that work with elementary school students at five Saskatoon elementary schools each year to expand creativity, encourage teamwork, and provide an arts and cultural experience.
New to its programming this year was the New Voices Playwriting Residency, which gave emerging Indigenous playwrights a chance to work on their own brand new works for a six-month period while connecting with a local playwright. "The purpose of this program is to develop these youth into more accomplished writers rather than focusing on the finishing of a work. This way, they will be inspired to continue telling their stories. We are excited to keep this program moving forward in future seasons!"
According to Mendez, Artistic Director Jennifer Dawn Bishop helps to guide the process for the youth. "In terms of the Circle of Voices production, Jennifer will typically choose a theme but the story itself is written by an independent playwright who works with the students to create the show," he says. "By including their ideas, opinions, and lived experiences in the script, we see the youth taking ownership of the story and realizing that people care about the things they want to say. There's a great sense of pride, not only in terms of their acting, but in their storytelling." Playwrights are chosen from across the country as well as locally.
He says that the youth in GTNT's program always feel a sense of belonging to their community once they've been through the program. He shares one comment from a student that reads: "Circle of Voices let me open up more and helped me in a dark time in my life. It also gave me a second family".
Established in 1999, the GTNT, formerly known as the Saskatchewan Native Theatre Company, was created to provide a culturally grounded theatre training program for Indigenous youth in Saskatoon.