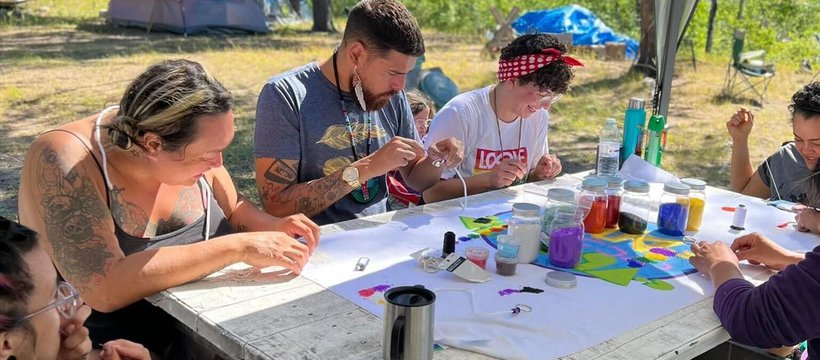 OUT on the Land Continues to Build Two-Spirit Connections
In this issue

Engage - Volume 13, Issue 1, Fall 2022
After wrapping up the 6th annual OUT on the Land camp, OUTSaskatoon was again reminded about the growing interest for gender-affirming spaces designed to centre Indigenous cultural teachings and ceremony. The camp, which runs in early August in Pine River, SK, welcomes Indigenous Two-Spirit, Queer, and Transgender urban and northern youth and connects them with traditional Indigenous Knowledge Keepers to participate in a four-day, culturally rich experience away from the city.
The experience is meant to be a hands-on, self-governing structure, which means campers are guided from set-up until teardown, while choosing activities to fill their time throughout. Camp participants have the option to help gather food, such as fish and berries, go medicine picking, partake in crafts, learn their language, go canoeing, and/or partake in ceremonies and cultural teachings. "This teaching of self-governance will continue to manifest in future camps because it respects people's authenticity and supports self-expression," says Dakota Adams-Beavereye, Indigenous cultural projects coordinator, OUTSaskatoon.
The camp includes an intergenerational component by inviting Knowledge Keepers and Elders, as well as participants from a wide age range in the 2SLGBTQ community. The idea is to strengthen relationships and build community connections in a gender-affirming environment.
Adams-Beavereye says that, before colonization, Two Spirit people and Queer individuals played a big role in their own traditional communities. Unfortunately, and largely due to the troubling and lasting effects of residential schools, the way some communities view those roles have been deeply damaged. "[Hosting the camp] means that Indigenous 2SLGBTQ will have access to ceremony, traditional teachings, and traditional medicine while being connected to mother Nature without having to hide a part of themselves to feel safe and accepted."
Plenty of work goes into planning a land-based camp, but Adams-Beavereye remains eager to continue building on the momentum of the community connections that remain at the core of the camp. She notes that there is a strong sense of healing, confidence, and peace that comes out of the camp after participants have accessed ceremony and the other activities offered.
Over the years, OUT on the Land has helped decrease isolation in 2SLGBTQ participants and strengthened the dialogue happening around Two Spirit teachings in Saskatchewan. Furthermore, OUTSaskatoon has seen participants go on to pursue further education, become active in community-building and events, and further extend themselves.
As for the future, Adams-Beavereye is hopeful to expand organizing capacity and in turn, see more participants, Elders and Knowledge Keepers in attendance. She also remains hopeful that eventually, a winter OUT on the Land camp can take place so that the participants can come together more than once a year.
OUTSaskatoon received funding from SaskCulture's Aboriginal Arts and Culture Leadership Grant funded by Sask Lotteries.