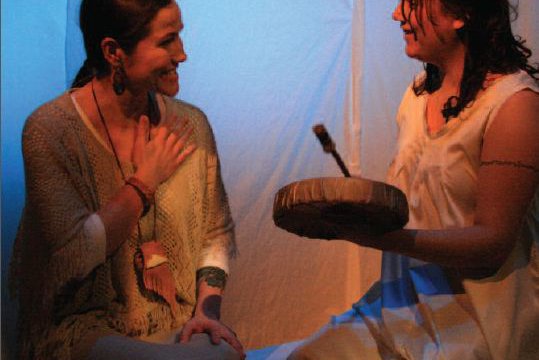 Saskatchewan Native Theatre Company's upcoming production to focus on empowering multicultural themes
In this issue

Engage - Volume 3, Issue 1 Winter 2012
This upcoming spring, the Saskatchewan Native Theatre Company (SNTC) will be showcasing a touching and inspirational story about a young girl discovering her cultural identity.

Café Daughter is a one-woman show about a young girl, Yvette Wong, who grew up in Saskatchewan during the 1950's and 60's. Yvette is from a unique heritage; her mother is Cree and her father is Chinese. The play is inspired by the life of Dr. Lillian E. Quan Dyck, who is a well-known neuroscientist and a current member of Canada's Senate. She is also a member of Saskatchewan's Gordons First Nation.

"We wanted to tell an empowering story," says Curtis Peeteetuce, artistic director, SNTC.

In Café Daughter, ten-year-old Yvette helps out at her parents' café. Because of her skin colour, Yvette encounters problems at school. In the hope of making her daughter's life easier, her mother suggests Yvette should never tell anyone she is part Cree.

According to Peeteetuce, the story is about one individual who faced isolation, discrimination and racism, and who went on to overcome all of those barriers to make some very large accomplishments in her life.

"This particular play is about fighting loneliness, it's about fighting isolation and discrimination. It's about overcoming those things that will often be seen as barriers and can often detriment your own personal development and finding success in your life," says Peeteetuce.

He adds that he believes Café Daughter is a story that speaks to all audiences.

Inspiration is not the only reason why the SNTC will be showcasing this play. Café Daughter fulfills SNTC's mandate and vision to foster the creativity and development of Saskatchewan arts and artists, he says.

The play is by Saskatchewan writer Kenneth T. Williams and features actress Rose Kristin Friday, who like Dr. Lillian E. Quan Dyck, are both from the Gordons First Nation.

"This is a truly Saskatchewan story for us," says Peeteetuce. "With those three artists involved, it makes this play uniquely Saskatchewan."

Café Daughter will run April 19 – 28, 2013 at 914 20th Street West in Saskatoon.

For more information, please visit the Saskatchewan Native Theatre Company's website at www.sntc.ca.