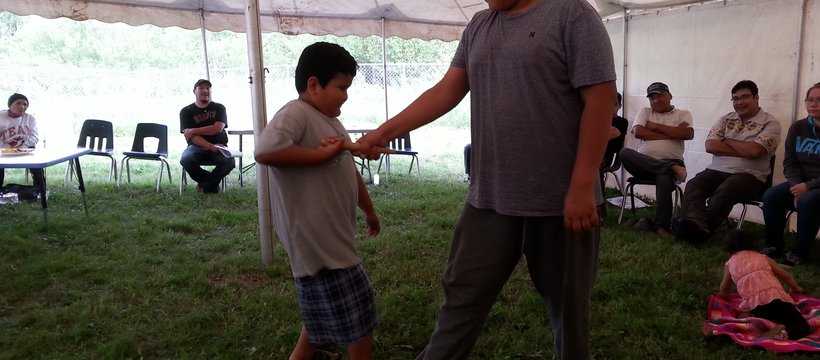 Traditional Parenting Workshop Revives Culture at Island Lake First Nation
In this issue

Engage - Volume 5, Issue 1, Fall 2014
This past summer, a unique camp offered parents a chance to learn and explore traditional First Nations parenting practices with their children.

Dorothy Myo, president, Saskatchewan Indian Cultural Centre (SICC), in Saskatoon, was part of a dedicated team of individuals who facilitated a Plains Cree traditional parenting workshop at Island lake First Nation, from August 12- 15, 2014.

The idea for the workshop came directly from community residents. "They requested a workshop that would incorporate the cultural knowledge and the language associated with the teachings of the elders into how they brought up their children," says Myo.

Melody Wood, Indigenous Knowledge Systems Researcher, SICC, states that SICC's desire to conduct a workshop at Island lake First Nation was based on a need to revitalize the culture in that area. "Back in 2010, Island lake First Nation was one of the first to ask if they could have [a traditional parenting workshop] in their community," she says.

According to Wood, the four-day workshop, which was made possible by a SaskCulture Aboriginal Arts and Culture Leadership grant, drew up to 60 participants daily, and featured teachings from nine community elders, as well as several knowledge keepers. Wood explains that traditional parenting is based on practices that are over 150 years old, and its lessons are about taking care of the land, as well as taking care of each other.

Myo adds, "We are sometimes in conflict with the mainstream [parenting] values that are out there, which is why we developed this workshop. The First Nations parents of today are the second generation of residential school parents, and the ancestral knowledge is missing from their lives."

One of the workshop objectives was to bring together the elders and the youth.

Ross Gardypie, elders' helper, SICC, and co-master of ceremonies for the workshop, says, the workshop opened with a sweat lodge ceremony and included agenda topics such as Plains Cree world view, impact of residential schools, nutrition, male and female responsibilities, and traditional games. It wrapped-up with a feast.

Gardypie says, simple activities like getting together, talking about medicines, traditional plants, and traditional foods had been culturally severed, and this traditional parenting workshop reinvigorated these practices.

"At one point, we had a breakout circle and passed [the microphone] around, and one council member said 'You've reawakened us'," he recollects.

Kristian Blind, a SICC summer student who recorded workshop sessions, says normally young people don't have a lot of opportunities to gain knowledge from elders. "It was amazing how the communities all spoke their languages; even a small four- year-old girl spoke Cree fluently."

Wood says she hopes to initiate more parenting workshops in the future, while Gardypie believes the workshop has inspired the possibility of future interaction between elders and youth, such as wilderness survival camps.

"Once, there was this beautiful way of life, and it was destroyed," Wood adds. "Now we are trying to get it back in these contemporary times."