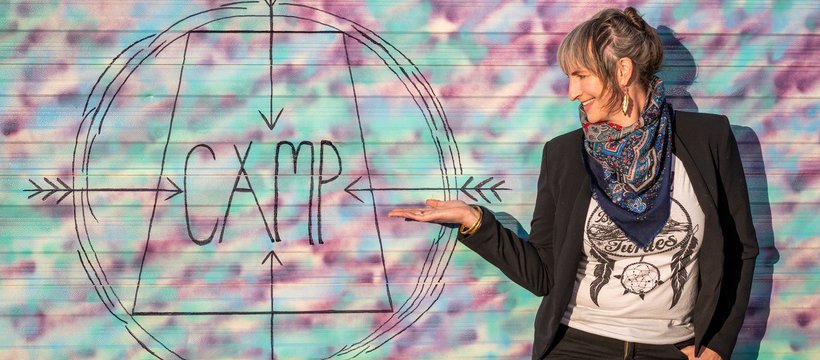 Travelling Artist Takes Music Lessons to Underserved Communities
In this issue

Engage - Volume 13, Issue 2, Spring 2023
When Eliza Doyle, a travelling musician, began teaching music in Northern Saskatchewan, she had no idea it would lead to her becoming the volunteer artistic director and co-founder of CAMP Sask Arts.
In 2019, after receiving a grant from the Saskatchewan Cultural Exchange (SCES), she went for five weeks to teach music lessons in Stanley Mission, SK. After the project ended the community asked for her to continue.
"They said, 'Well, you know, don't be like everybody else. Don't come up here and start something and inspire everybody, and leave, it's not working," says Doyle. So, in response, she would go on to co-found Community Arts mentorship Program (CAMP) Sask Arts with Holly Rae Yuzicapi. The organization now teaches in eight communities, filling an arts education gap in underserved communities throughout the province.
LJ Tyson is one of the program's educators. He says that, since meeting Doyle, his time teaching for the program has heavily informed his own work as an artist.
"I've been teaching for CAMP for a little over a year and a half now and to see these kids grow, learn, and fall in love with music, just reinvigorates my love of music. some of the things they say and some of the questions they ask me, just remind me so much of myself when I was their age."
Teachers, such as Tyson, "share the load" when they teach for CAMP Sask Arts. Doyle figured out early on that sharing teaching contracts between three to four artists was an easier sell than a much longer solo gig.
Since the early days, CAMP Sask Arts has experienced rapid growth. Participation in their programs is making it harder to manage their organization. In an effort to create more sustainability, they are presently participating in SaskCulture's Lifecycles program to figure out what the next stage forthe non-profit will be.
"Altogether, we have 13 board members," explains Doyle, "We're realizing that we need a lot more supportin running the business aspects of our organization. Because right now I'm the president, I'm also running programming, and I'm kind of like the artistic director, an overseer. And it's not really a position that I can keep volunteering for because it's just too time consuming."
Doyle says that the organization is bumping into what many arts nonprofits realize: the reality that arts and administration, including aspects such as board governance and insurance, don't always mix comfortably.
"I'm not a business person, I'm a dreamer and a community leader. So, that's one of the reasons we're restructuring. We're so grateful for the strategic planning grant (Community Planning and Engagement Grant) from SaskCulture because we're growing really quickly, we just need to get, all those other things in place."
The impact of the organization is felt by participants such as Shellie McLeod, who says that CAMP Sask Arts has allowed her to recognize just how much she loves music, including the fiddle. "I haven't really had much interaction with playing music. And I was a bit shy going into that class. But the first few days, I didn't think I was really going to like it. But I've learned that I really loved it."
A fiddle donation allowed CAMP Sask Arts to provide fiddle lessons, something that Doyle says the Elders in the community requested. Now, McLeod plays a fiddle, known as Joyful Libby, named after two of her teachers. For Eliza, it's little stories like this that make the work rewarding. "When you see the spark of music reach a student that never even knew that they were a musician, or might have never had the opportunity to discover that, that's really what makes this whole thing worth it."
CAMP Sask Arts has received project support from SaskCulture's Multicultural Initiative Fund, Northern Youth Cultural Fund and the Small Grant Accessibility Program funded by Sask Lotteries Trust Fund for Sport, Culture and Recreation.