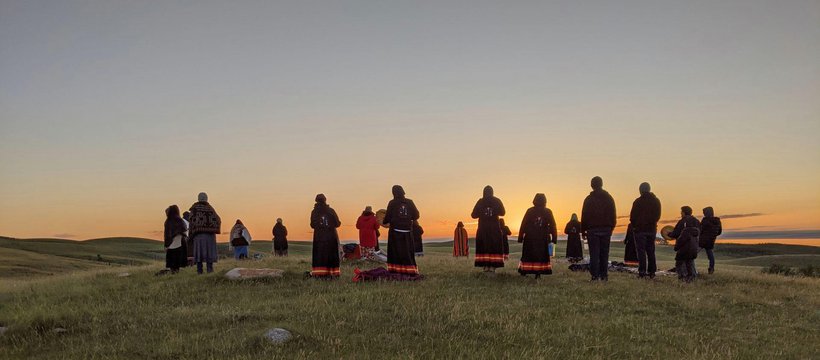 YWCA Exemplifies Leadership in Implementing TRC's Calls to Action
In this issue

Engage - Volume 13, Issue 1, Fall 2022
From programs, to policy, to staff and board retention, the YWCA Regina has been hard at work moving forward on its Truth and Reconciliation journey. It has been a journey of restructuring and decolonizing long-time systems and beliefs.
As with most structural changes, movement on the Truth and Reconciliation Commission's (TRC's) Calls to Action would not have been possible without community consultations, the guidance of a Senior Director of Indigenous Relations, and a significant increase of Indigenous representation on the organization's board.
"For me, the work I do is more about resurgence and reclaiming," explains Jessica Gordon, senior director of Indigenous Relations, YWCA Regina.
Gordon says that in order to meaningfully work on Truth and Reconciliation, an organization must consider significant structural reordering. "The TRC Calls to Action provide the guidance for the work to be accomplished," she says, "but one of the main successes in reaching outcomes for Truth and Reconciliation has been understanding that Indigenous representation on the Board of Directors was needed.
As well, representation on the senior executive team is important if settlers and organizations want to walk their talk." Currently, the YWCA staff team includes approximately 23 per cent Indigenous staff members, in addition, there has been a significant increase in representation of Indigenous peoples at the Board level.
Gordon has noted a restoration of balance within Indigenous and non-Indigenous communities the YWCA serves. "As a senior director, I have the freedom and authority to decolonize and view programming and policy from an Indigenous lens, which has provided the YWCA Regina with a path to what is required for Indigenous women, children and families – as well as Indigenous staff – to find pride and identity in who they are," she says. "For the non-Indigenous staff and clients, an emphasis on education and the incorporation of Indigenous ways of being has become a way to build true 'allyship' and understanding."
The structural work has been recognized in the community and has helped create meaningful programming for the organization. Currently, the YWCA has incorporated regular access to ceremony and teachings with their elders, and Knowledge and Language Keepers yearround. It hosts a traditional First Nations knowledge exchange camp for women and children to attend; it provides transportation and access to surrounding Treaty 4 ceremonies and events in the community; and it also hosts its own annual feasts, storytelling events, round dances and solstice celebrations.
"The programming and supports for the women, children, and families that access the YWCA have been rooted in decolonization and restoration of culture and language," Gordon says.
Further, the YWCA has implemented antiracist and anti-colonial commitments into its policies that promote structural change for Indigenous peoples on a societal level.
"As we continue this work, we do view the organization as a possible model for other member associations across Canada and organizations to follow," Gordon explains. "Creating spaces that are inclusive of Indigenous content while educating, practicing representational hiring, and decolonizing structures and cultural programming has, and must continue, to be a priority in this work."
The YWCA Regina received project funding through SaskCulture's Multicultural Initiatives Fund and Aboriginal Arts and Culture Leadership Grant, both funded by Sask Lotteries.