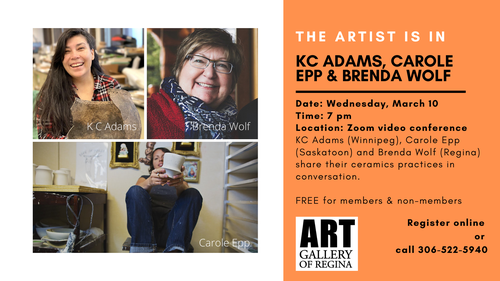 2021
Mar 10
7:00 PM — 9:00 PM
Cost: Free
Register
Artist/Author Talk
Arts: Visual
The Artist Is In: KC Adams, Carole Epp, Brenda Wolf
THE ARTIST IS IN
Date: Wednesday, March 10
Time: 7 pm
Location: Zoom video conference
Fee: Free
Register in advance for this meeting:
https://us02web.zoom.us/meeting/register/tZMscuusrTojEtaOnx3DRsrJdWs1mFdA8UmY
After registering, you will receive a confirmation email containing information about joining the meeting.
Get to know ceramic artists in your community! The Artist Is In is a forum for discussion featuring short presentations by artists about their work. The AGR has invited KC Adams (Winnipeg), Carole Epp (Saskatoon) and Brenda Wolf (Regina) to share their practices as they resonate or contrast with our scheduled main gallery exhibition, Tend, featuring a profusion of porcelain flowers and bulbs sculpted by Ruth Chambers.
Audience members are encouraged to ask questions following these presentations. AGR staff member Sandee Moore will direct questions to the panel as a whole and engage our Zoom audience in discussion about these artists' diverse and innovative approaches to this challenging medium.
Register
2021
Mar 10
7:00 PM — 9:00 PM
Cost: Free
Organizer
Accessibility
Wheelchair Accessible
Safe and Inclusive Space