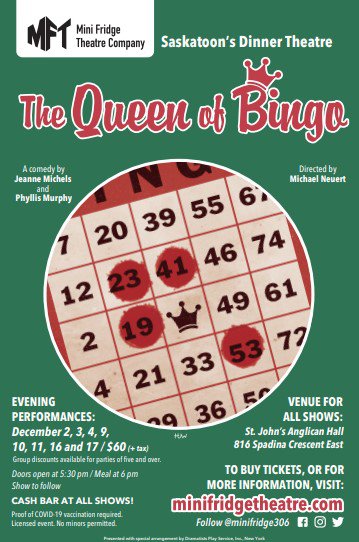 St John's Anglican Cathedral Hall
816, Spadina Crescent East
Saskatoon SK
S7M 4S9
Map
Cost: ^0
Dinner and show. Group discounts available
Buy Ticket
Theatre
Arts: Theatre
Other: Other
The Queen of Bingo
Join Mini Fridge Dinner Theatre at their second show of the season, The Queen of Bingo.

On any Bingo night at St. Joseph's, you can find Father Mac, Lonnie and Cindy Conklin, Marge Meranski, Coach Anderson, and the many offbeat, colourful regulars we meet through the eyes of Sis and Babe. They dish the dirt, giggle like school girls and share old memories.

Sis and Babe are sisters and best friends. They've been coming to play Bingo together for years because they love it. Sis is a good loser who just loves to play. Babe is a player who has always got to win. Sis is naturally fit and trim. Babe is naturally overweight and always fighting the battle of the bulge. Sis is content in her widowhood. Babe is still looking for love. They compliment each other in ways only sisters can and they drive each other crazy in that same sisterly fashion.

On this particular night, Babe and Sis share something new as they each confess a secret and find a special kind of redemption.
Buy Ticket
St John's Anglican Cathedral Hall
816, Spadina Crescent East
Saskatoon SK
S7M 4S9
Map
Cost: ^0
Dinner and show. Group discounts available
Organizer
Accessibility
Wheelchair Accessible
Safe and Inclusive Space