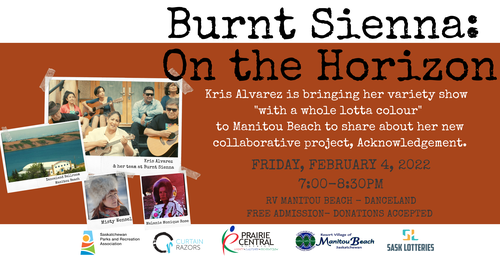 Theatre
Arts: Multidisciplinary
Indigenous
Multicultural
Burnt Sienna: On the Horizon
Prairie Central District is so excited to bring Kris Alvarez and her variety show "with a whole lotta colour" to Manitou Beach to share about her new collaborative project, Acknowledgement.
This will be a space to open up conversations about othering, race and identity with diverse communities in a non-traditional theatre approach.
Special Guests include- Kris Alvarez and her Burnt Sienna Team, Misty Wensel, and Melanie Monique Rose.
Current SHA Guidelines will be adhered to.
Proof of double vaccination required.
Please register your intent on attendance so we can send you the most up to date information.
Questions or concerns, connect with Aileen Martin
aileen.pcdscr@sasktel.net
306-726-2087
SPECIAL THANK YOU to our funders for making this event come to fruition.
Resort Village of Manitou Beach, Saskatchewan Lotteries, Saskatchewan Parks & Recreation Association, Curtain Razors
Organizer
Accessibility
Wheelchair Accessible
Safe and Inclusive Space