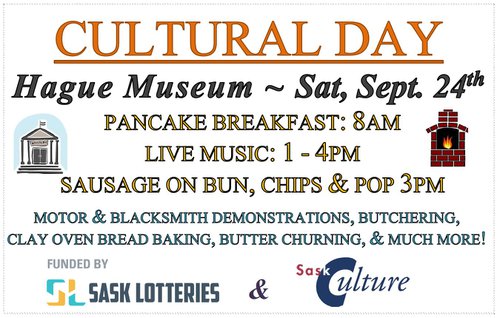 2022
Sep 24
8:00 AM — 5:00 PM
Hague Museum
307 East Railway
Hague SK
S0K 1X0
Treaty 6 Territory
Cost: Free
More Info
Special Event
Heritage: Museum / Knowledge Keepers
Other
Hague Culture Days
Hague Culture Days will take place at Hague Museum located at 307 East Railway in the Town of Hague on Saturday, September 24th, 2022.

Come tour the museum and find artifacts, arrowheads, clothing/costumes, historical photos, old schoolhouse, pole shed, shoe repair shop, church, garage, plus motor and blacksmith demonstrations!

Our knowledgeable volunteers will demonstrate and engage the public in how things work or are made such as clay over bread baking, butchering, and butter churning. Guests are encouraged to sing along with familiar tunes and request their old-time favorites from the local entertainment!
More Info
2022
Sep 24
8:00 AM — 5:00 PM
Hague Museum
307 East Railway
Hague SK
S0K 1X0
Cost: Free
Organizer
Sask River Valley Museum
Norm Penner
(306) 221 6918
Accessibility