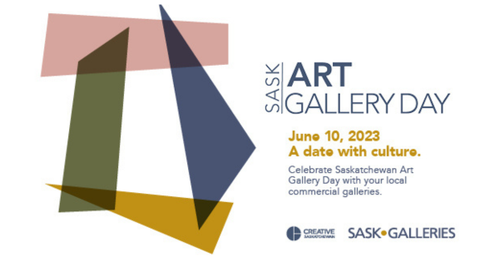 2023
Jun 10
9:00 AM — 9:00 PM
Participating Commercial Galleries across the province
SK
Cost: Free
More Info
Special Event
Arts: Visual
Third Annual Saskatchewan Art Gallery Day
Saskatchewan Art Gallery Day returns for the 3rd annual event on June 10, 2023. Come out and celebrate Saskatchewan's commercial art galleries as they host special events in their galleries.
Join us for a province-wide art walk celebrating local commercial galleries and artists that bring our communities to life. Participating galleries will open their doors on Saturday, June 10, bringing you exhibitions, special events, and of course, plenty of fine art.
Want to know more? Visit
www.saskgalleries.ca/art-gallery-day
for details and to plan your date.
More Info
2023
Jun 10
9:00 AM — 9:00 PM
Participating Commercial Galleries across the province
SK
Cost: Free
Organizer