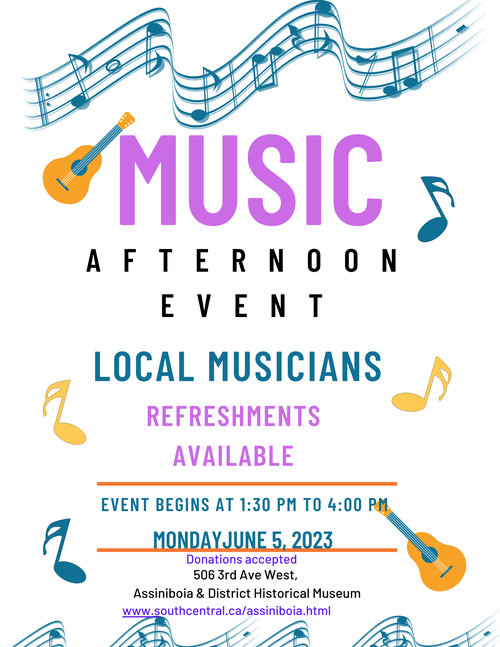 2023
Jun 05
1:30 AM — 4:30 PM
Assiniboia and District Historical Museum
506 3rd Avenue West
Assiniboia SK
S0H0B0
Treaty 4 Territory
Map
Cost: Free
Celebration
Arts: Music
Heritage
Afternoon Music Event
Come start the week out by joining a few local musicians and others for an Afternoon Music Event at the Assiniboia & District Historical Museum.

This is a celebration of the Saskatchewan Country Music Association Awards being held in Assiniboia and we want to recognize some of the musicians that play many different songs.

The musicians may play a few familiar songs that may tempt you or your friend to tap your heel or clap your hands. You might even want to join in and sing along.

The musicians may take a small break and even join an empty seat or two to have some of the refreshments or baked goodies available and visit with the audience.
2023
Jun 05
1:30 AM — 4:30 PM
Assiniboia and District Historical Museum
506 3rd Avenue West
Assiniboia SK
S0H0B0
Map
Cost: Free
Organizer
Accessibility