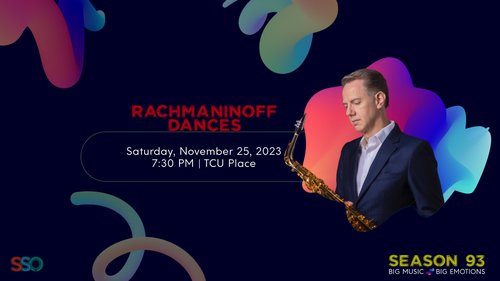 2023
Nov 25
7:30 PM — 9:30 PM
TCU Place, Sid Buckwold Theatre
35 – 22nd Street East
Saskatoon SK
S7K 0C8
Treaty 6 Territory
Cost: Varies
Kalamalka (Lake of many colours) – Prelude for orchestra – Jean Coulthard
Whimsical Concerto of Fanciful Birds: Concerto for Saxophone, Orchestra, and Spatialized Saxophone Ensemble – Vincent Ho
Symphonic Dances, Op. 45 – Sergei Rachmaninoff
Maestro Robert Franz joins the SSO for a sensational night featuring Rachmaninoff's Symphonic Dances.
The concert marks the world premiere of a brand-new concerto by Vincent Ho. This SSO commission, years in the making, showcases world-renowned saxophonist Timothy McAllister centre stage.
Not just a reference to the cold winters, #25Below creates greater access to SSO performances with discounted tickets for anyone 25 years of age or younger.
Visit
https://saskatoonsymphony.org/25below/
for more information.
2023
Nov 25
7:30 PM — 9:30 PM
TCU Place, Sid Buckwold Theatre
35 – 22nd Street East
Saskatoon SK
S7K 0C8
Cost: Varies
Organizer
Accessibility
Wheelchair Accessible
Safe and Inclusive Space