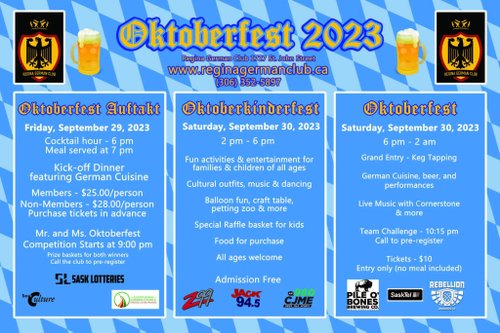 2023
Sep 30
2:00 PM — 11:55 PM
Regina German Club
1727 St. John Street
Regina SK
S4P 1R8
Treaty 4 Territory
Celebration
Multicultural: Cultural Group
OKtoberfest 2023
It's time to celebrate the biggest cultural festival in the world, all right here in Regina.

Pull out the Dirndl and Lederhosen, polish your dancing shoes, and make sure you have room for delicious German treats.

Young and young at heart are welcome at 2 p.m. for an afternoon of entertainment, crafting, and fun at the Oktoberkinderfest 2023.

You will find delicious German treats in our main hall, in our Kaffeestube downstairs and outside in the Biergarten.

Enjoy cultural entertainment, games, and crafts with your little ones. We'll have a bouncy house, a petting zoo, and so much more.

Then stop at the souvenir booth and grab a little "Andenken" - keepsake to remember this fabulous day by.

Admission is free. (Tickets for stations are $1/each.)

Then, at 6 p.m., join us for the evening portion of Oktoberfest. We will have the hall and Biergarten open.

But make sure to join us at 7 p.m. for the Grand Entrance and Welcome Fanfare. Don't miss Das Volle Lederpaket and their Schuhplattler performance.

We'll tap a keg and then the dance floor will be open with the Cornerstone band rocking the house.

Admission for the evening is $10/person.
2023
Sep 30
2:00 PM — 11:55 PM
Regina German Club
1727 St. John Street
Regina SK
S4P 1R8
Organizer
Accessibility