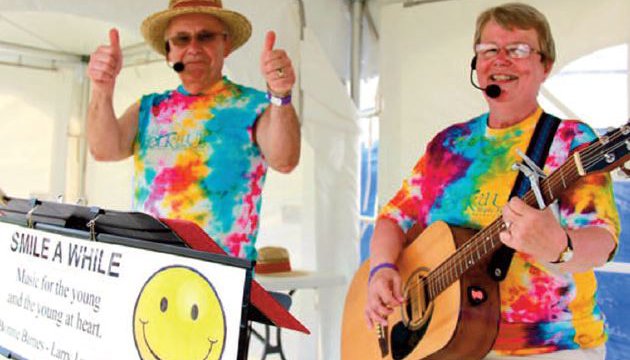 All Folk'd up - A unique festival celebrates Montmartre's rural roots
In this issue

Engage - Volume 5, Issue 2, Winter - Spring 2015
Many believe the genuine roots of culture stem from music, and for the past five years, a unique music festival has been putting the cultural heritage of one Saskatchewan village on the map.
All Folk'd Up, a yearly one-of-a-kind music festival held in Montmartre, was founded by six sisters: Marie Anne Fournier, her two sisters, and the three Deringer sisters – all of whom have roots in the small prairie town. The idea of bringing a festival to Montmartre evolved during a trip that the two families took to the Winnipeg Folk Festival. Fournier credits her experience there as the inspiration that led the idea of a music festival in her hometown to take shape in her mind. She recalls walking through Kemoka Park, now the venue's location. "I was living in Alberta, and I came back [to Montmartre] and did a walkabout," says Fournier. "I was blown away at how beautiful it was, and I said to the girls 'When I move back to Montmartre, we're going to have our own music festival.'"
And Fournier kept her promise. One year later, she relocated to Montmartre, called up her travel companions, and began the process of bringing All Folk'd Up to life. "We started planning in 2009," she says. "We didn't do anything that year because it was our centennial, and we were expecting 2,500 former residents." Finally, in 2010, it all came together when performers at the three-day festival played to a crowd of almost 400 people. Six years later, Fournier says festival attendance continues to climb, and last year, All Folk'd Up attracted nearly 800 people. "Our considered sellout is 1,000 people, and we're hoping to achieve that this year," she adds.
The family friendly festival has attracted celebrated acts including Captain Tractor, Belle Plain, The Dead south, The True Jive Pluckers and The Pile o' Bones Brass Band, to name a few. Fournier also mentions that First Nations performers are an important part of the festival, and have included the talents of Kurt Ryder and singer-songwriter Carol Morin. "Our mission is to support local Saskatchewan talent," says Fournier. "We've also worked hard to include Carry-The-Kettle Reserve, our First Nations neighbour, in the festival. They supported our ancestors, and play a crucial role in our heritage."
Fournier also owns a boutique and bistro and states that the village's population of 500 people triples in the first weekend of July, during festival time, but the festival's economic benefits begin long before performers take the stage. "People start rolling into town long before the festival," she says. "They buy groceries, shop the boutiques, use the laundromat, and purchase gas — all the things that we as business people celebrate."
Sharon May, economic development officer and regional park manager, Montmartre area, has written grants on behalf of the festival and also oversees festival preparations for Kemora Park. "This event goes back to our community's multicultural background," she says. "There's something at our festival for everyone."