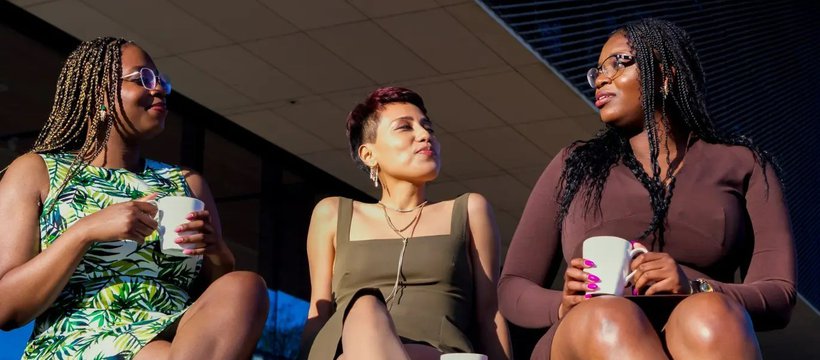 Anti-racism Conference: New Non-profit Leads Discussions on Anti-racism
In this issue

Engage - Volume 13, Issue 1, Fall 2022
A new non-profit, focused on anti-racism, aims to create space for sharing and discussion designed to build understanding. At its first conference held this past summer, BIPOC Coffee Talk Inc. focused on the lived experiences of Black, Indigenous and People of Color, and the change needed to eliminate oppression.
The BIPOC Lens: An Anti-Racism Forum and Social Gathering, was the organization's furthered aim at continuing discussions about the lived experiences for BIPOC and anti-racism education.
For the non-profit directors, Dyana Castillo and Theresa Quagraine, the lack of organizations in Saskatoon devoted to having these kind discussions was something they wanted to address.
"The conference was our attempt to invite people to have anti-racism discussions on topics that disproportionately affect the BIPOC community," says Castillo. "And also incorporate other cultural elements, such as Dominican dance lessons and the Indigenous performer Fabian, for some fun elements."
Quagraine goes on to say, giving people an opportunity to meet up and build community was important too. "We wanted to allow people to connect with each other and to educate themselves on topics that they have knowledge and experience in. It was really great to see different kinds of people come together and connect in learning."
The day-long event included speaker presentations on anti-racism topics affecting BIPOC communities, BIPOC perspectives in workplaces, the need for newcomers and the effects of climate change on Indigenous peoples. Each session was followed by a question and answer session.
Castillo says education and safety were also key in the planning of the conference. "There is a lot of learning and unlearning when it comes to the topic of anti-racism. It can be uncomfortable, so we wanted it done in a space where people weren't going to get called out for being a little bit unknowledgeable on a subject," she explains. "As well as, we wanted a space where there was no shaming, no judgement, only encouragement to ask uncomfortable questions."
Both women emphasized they didn't want anyone to feel discriminated against or unsafe in ways they had experienced in their lives.
One of the presenters, Dakota Norris, who spoke on sustainable development and Indigenous Peoples, says the invitation to speak was not only a great experience giving him a new opportunity to put together what he was interested in, in a more comprehensive way, but an opportunity to learn about other cultures as well.
"It's important that we come together from different cultural groups because it's not about one specific culture, movement or idea. It becomes about understanding different ways of being, understanding the visions and values of a culture. The more we get exposed to these differences, the more we can take a step back from our own systems, values and morals and see them in a different way."
Norris went on to commend the organizers for showing leadership in both their ideas for, and planning of, the conference. As well, he congratulated them on bringing people together in this way to have these kind of discussions.
"For the participants themselves to take the time out of their day to go to this conference is also an act of leadership. Thank you, for your willingness to listen, learn and connect."
This project received funding from SaskCulture's Small Grant Accessibility Program, funded by Sask Lotteries.