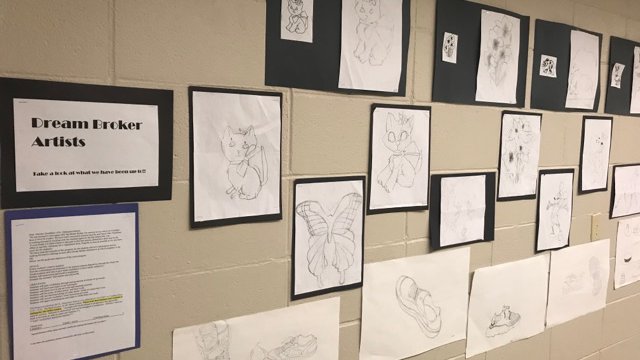 Dream Broker Programming Helps Build Student Confidence
Teachers appreciate how a Dream Broker art program provides extra-curricular drawing and painting activities, and builds student confidence.
Tammy Morrison, support services teacher, St. Alphonsus School in Yorkton, realized students needed more than just after-school sports activity. She teamed up with Dream Brokers to submit an application to Creative Kids to offer an arts program for students. She, and Dream Broker Katie Pengilly, worked with a local arts instructor to create a one- hour, after-school arts program.
"We knew that if we could 'build it, they (students) would come'," says Morrison. "We already had the kids who were interested. We just needed a program to meet their after- school needs, something that they would be willing to try and that would target a specific interest. Art it was!"
Janelle Rondeau, who joined the team as a Dream Broker in February 2019, says she and her colleagues noticed an improvement in the students' skills, attitude, confidence, and behavior since the program started.
"We have seen students, who may struggle with their confidence, eager to answer more questions during the program. After attending these art sessions, some of the teachers have mentioned that the students' behavior and demeanor has become more positive while attending their classes at school as well."
The art program, which was inspired by various art techniques, encourages students to either draw or paint images to create their own unique works of art.
The program, held between November 2018 and 2019, consisted of three sessions that explored print-making, drawing techniques and the use of colours. The goal of the program was to help students strengthen and gain new skills that they will be able to use throughout their lives.
Rondeau goes on to say that the art program exceeded their high expectations, adding that there are plans to replicate the program in other schools.
Over the years, SaskCulture, has partnered with Sask Sport and the Saskatchewan Parks Recreation Association to support the Dream Broker program, as well as provided an additional $25,000 program grant through Creative Kids, to ensure kids' participation in sports, culture, and recreational activities.