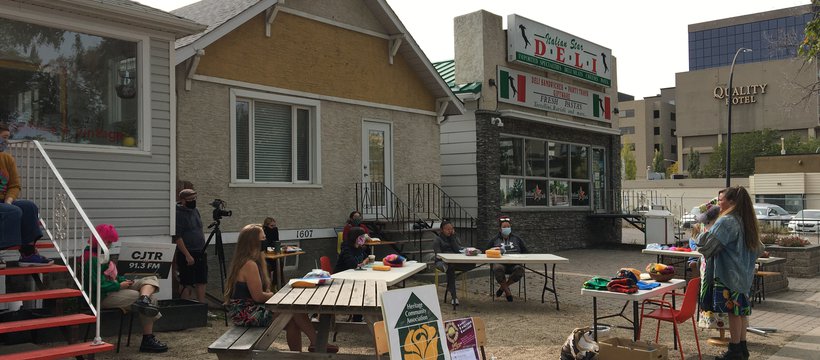 Finding new Ways to Safely engage
In this issue

Engage - Volume 11, Issue 1, Fall 2020
Festivals, live concerts and musical performances have become quite quite rare due to COVID­19 and social gathering restrictions. While many communities are still looking for safe ways to come together during the pandemic, the Heritage Community Association in Regina used its ingenuity to engage community members in its annual Harvest Moon Festival themed "Safely Together Edition."
The annual festival, which brings about 500 people in the community together in a normal year, was intent on holding its annual festival on September 12 to 22 this year. "We wanted to still find ways to bring people together and to celebrate the arts and culture in the neighborhood, but we realized we had to do it in a different and safe way with all the groups, and also online," says Shayna Stock, executive director, Heritage Community Association.
The "Safely Together Edition" featured several in­person activities and workshops, such as a needle­felting, Salsa dancing, Mandala and Schitzel, as well as a small music show with the band Let There Be Theremin, whose performance was recorded and shared online.
All workshops were held with safety in mind. Each required pre­registration, and was held outdoors to create enough space for people to social distance. The events were filmed and shared on the Association's Facebook page so that members could participate from home.
"We filled all of our events," says Stock. "They were small groups, but they were about ten to 15 people that could pre­register and attend, and they were all full. And we got a good response online too from people who were watching the videos and doing the workshops from home." She adds that the event provided a unique opportunity for the community to gather in a small but safe space. "People that attended learned some new skills and got to know their neighbors or fellow community members."
When asked if planning the festival was challenging, Stock says it was exciting to think outside the box. "We are really pleased with the way things turned out and with the results that we had in terms of still being able to bring people together and to celebrate our neighborhood. It was a memorable experience for those who participated. It's unlike anything we've done before."
For next year, Stock says it is still too early to know what the festival will look like as it depends on the COVID­19 numbers and provincial restrictions.
This event received support through SaskCulture's Multicultural Initiatives Fund, thanks to funding from Sask Lotteries.