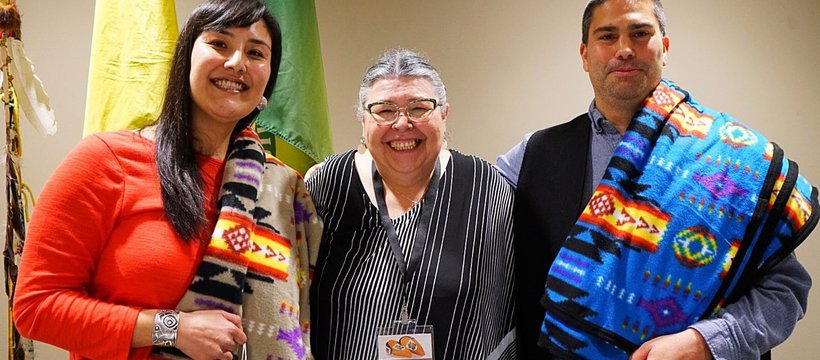 Gathering Opens Conversation on Care of Ancestral Objects and Knowledge
In this issue

Engage - Volume 10, Issue 2, Spring 2020
"It's time to take care of our ancestors because they take care of us from the spirit world."
This statement, which came from Elder William Ratfoot, was behind the idea of the theme of a gathering that delved into the issues surrounding cultural preservation and protecting sacred Indigenous objects.
The ē-micimināyakik Gathering was hosted by the Saskatchewan Indigenous Cultural Centre (SICC) in May 2019, in Saskatoon. This event brought together various professionals and participants with the goal of sharing issues, ideas, progress and solutions for First Nations museums, cultural centres, archives and libraries. This gathering was also a response to the Truth and Reconciliation Commission's Call to Action #67.
Jessica Generoux, chair, 2019 ē-micimināyakik, says through discussion, SICC realized that many Indigenous communities in Canada were in the same situation as her organization when it came to caring for, and protecting, historic materials and intellectual property. It was identified that there was a gap between museums practices and Indigenous peoples views in ensuring the protection, preservation and return of Indigenous cultural heritage and knowledge. It was evident that changes are needed to be made.
"It was felt that perhaps other First Nations might also be interested in training, networking, and resource building too, in a way where we could all teach each other and learn together through the sharing of learned experiences, education, and critical discussion," she explains.
Hundreds of people registered for the gathering from local groups such as the Saskatchewan Archeological Society to groups from further away such as Thunder Bay Public Library, Mohawk Nation, Ktunaxa Nation Council, the Canadian Museum of History as well as many others. This gathering provided an opportunity for organizations to work together to develop strategies to "Indigenize" the policies and procedures in addressing Indigenous sacred objects and knowledge. The implementation of strategies in repatriation was also discussed.
Generoux says from this gathering SICC wanted to see Nations working together on a collective vision on Indigenous sovereignty in approaching the care and management of ancestral objects and knowledge.
"Museums and collections across the globe hold information that doesn't belong to them – many nations suffer from this systemic injustice," she explains. "We are responsible now to discuss these issues for the empowerment of our communities and future generations. We do this by providing support on cultural preservation and building capacities on repatriation efforts."
The ē-micimināyakik Gathering helped open discussions within Treaty nations on how ancestral objects are understood and perserved.
Generoux says SICC would like to seek future partnerships for a 2021 gathering. The organization is directly working with First Nation communities on applying the knowledge they gained as an organization in protecting, preserving and promoting language and culture through sacred items and knowledge.
"This is where we are at now," she continues. "Empowering our communities with these ideas associated with sovereignty. We would like to pull together all of these experiences we are working through now and present an even stronger position on protecting cultural heritage in 2021 from a perspective of our Saskatchewan Treaty nations."
This event was supported by SaskCulture thanks to funding from Sask Lotteries.