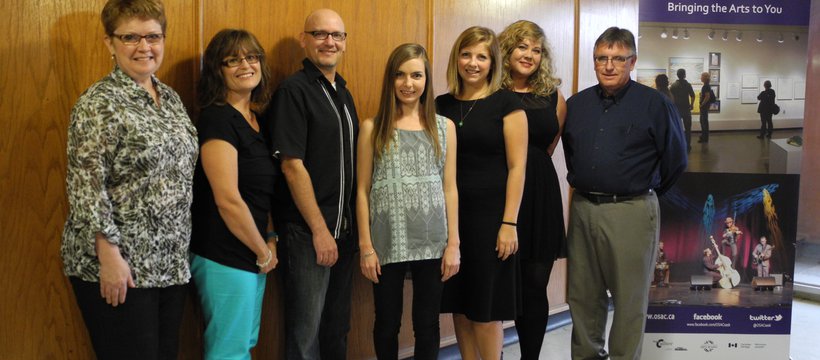 OSAC – connecting communities with the arts for 45 years
In this issue

Engage - Volume 4, Issue 1, Fall 2013
The organization of Saskatchewan Arts Councils (OSAC) has been making the arts more accessible to the people of Saskatchewan for 45 years and recent initiatives are ensuring that OSAC's programs and services will continue to remain relevant well into the future.


OSAC acts as an umbrella organization for community arts councils and schools across the province. It assists arts councils in bringing the arts to communities by organizing tours of performing artists and visual arts exhibitions and assisting in and streamlining the booking process.

Kevin Korchinski, executive director, says "The impact OSAC has on the province can clearly be seen in the numbers. We have an extensive provincial reach." In the 2011/12 season alone, there were 154 performances, by 43 different artists in 29 communities, with an audience of almost 30,000, and that is just the stars for Saskatchewan program! The Junior Concerts program, which connects performers with schools presented 153 performances in 73 communities to an audience of over 33,000. Through the Arts on the move program, 14 visual and media arts exhibitions toured 76 venues and were viewed by almost 24,000 people". There are a number of new ideas that OSAC is developing to help move into the future. "A large part of the picture is helping our arts councils build capacity through strategic and succession planning sessions," says Korchinski.

In 2012, at the annual showcase conference, OSAC offered succession and strategic planning workshops to delegates from around the province. "We had such a positive response to the workshops. We ended up with requests from people wanting to hold more extensive planning sessions in their communities," says Korchinski. "In the end, there were an additional six workshops that happened in different locations across the province last year. There are several more lined up for this year as well," he adds.

OSAC is also forward thinking when it comes to technology. Aside from introducing a new website, e-mail newsletter, increasing their presence on social media and launching extensive rebranding, the organization has begun an online ticketing pilot project with some of their arts councils. "We've partnered with Ticket Pro to sell single tickets in seven different communities. The idea is that this will encourage people from outside of the arts council's regular market to purchase tickets and attend concerts," says Korchinski. "There are a lot of great acts that tour rural Saskatchewan through our program. We hope that by making ticket purchasing more accessible, that we will be able to increase attendance at performances."

OSAC is supported by funding from the Saskatchewan Lotteries Trust Fund for Sport Culture and Recreation. For more information about OSAC, visit www.osac.ca or find them on Twitter at @OSACsask.