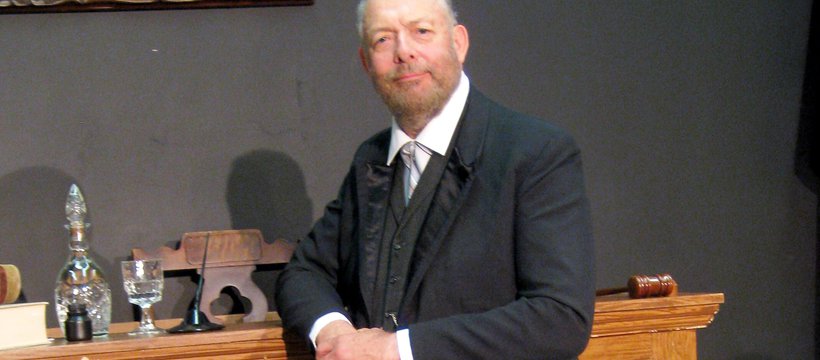 Production shares important Métis history
In this issue

Engage - Volume 4, Issue 1, Fall 2013
Live theatre has the power to touch audiences in a way few other art forms can. The play The Trial of Louis Riel has been reaching out and touching people with its story for 47 years.

The play was written by John Coulter, an Irish playwright who wrote three plays about the Canadian West. It was commissioned as a 1967 Centennial project based on the transcripts of Louis Riel's 1885 trial in Regina. The words of Riel still move audiences more than a century later. Peter Champagne, the show's producer says, "Louis is still alive and well in many respects today. The issues of rights, land, language, religion, culture and race, the issues of 1885, are still very relevant."

The play produced by Rielco Productions runs for school audiences for a week every may and for general audiences for three weeks from the middle of July until the long weekend in August. All regular shows are performed in the Shumiatcher Theatre at the MacKenzie Art Gallery in Regina. 'The Trial of Louis Riel' has been recognized in travel guides as one of the top things to see in Regina and has attracted an audience of over 50,000 since it began. The show has toured parts of Saskatchewan and Manitoba. It has been performed in Ottawa and plans are currently underway to take it west to Vancouver for a run. School audiences enjoy an opportunity to see their social studies lessons brought to life.

Generations of theatre-goers have attended the summer productions. Audience members who attended as children sometimes return years later with their own families. Champagne explains, "It was particularly interesting when the show toured to Winnipeg in 2010 and a descendant of Joseph Riel, Louis' brother, was in the audience." He adds, "It was such a great example of how the play has had an impact over the years because he told us that he had attended a production in 1970 as a 7 or 8 year old."

Champagne has been involved with the production for about 15 years. He has played many of the roles and in 2005 he bought the rights to the play. The Trial of Louis Riel is still going strong but the production is not without challenges. "Raising money and sponsors is always difficult, as well as finding new audiences to introduce to this important dramatic, iconic, story and part of our history. Renewing the production and finding new quality, committed, actors is also a challenge," he said.

New performers are important but experienced cast members are an integral part of the production's success. "One of the strengths of the cast is that virtually everyone can play all of the roles," he said. The piece has a cast of 25 characters and one actor, Bill Hayes, has played every one in his 30 years with the production.

Plans are already underway for special events to celebrate the production's 50th year in 2017 as The Trial of Louis Riel moves forward into the future with a story that connects generations and cultures and raises issues important to yesterday, today and tomorrow.