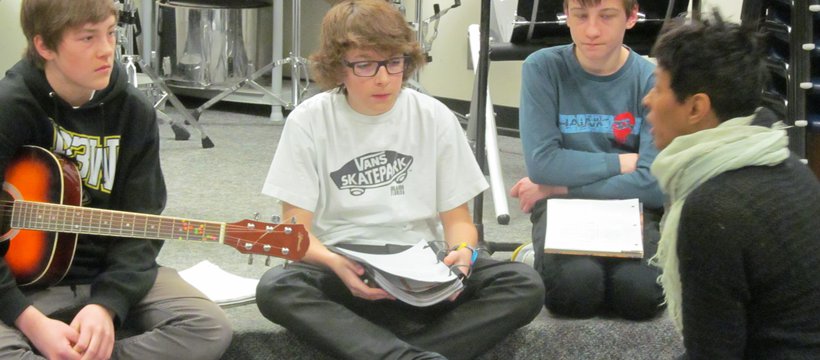 White City School sings the blues
In this issue

Engage - Volume 4, Issue 1, Fall 2013
It is said that music changes lives, and a musical collaboration between a local school teacher and an internationally acclaimed blues musician has done just that.

This past February, White City school teacher Danyelle Armbruster partnered with Brooklyn-born blues musician Shakura S'Aida, and the Regina Folk Festival, for a series of song writing workshops. The school-based workshops, which ran from February 25-28, provided an opportunity for many of the school's 800 students in grades 6-8 to compose and perform their own "protest" songs in front of their peers. The project cumulated with several of the students performing their songs at S'Aida's show in March at The Exchange in Regina.

S'Aida, a blues, jazz and R&B artist, has been involved in the Canadian music scene for almost 25 years. A Juno Awards nominee, she was chosen to take part in Armbruster's project because of her passion for children. "Working with children is one of the most important things in my life…probably even more important than singing," S'Aida says. The singer also brought her mother Gloria, who was part of the Black Panther movement during the 1960s, to the workshops to share her story with the students. "I feel it's really important that we bring back the idea of elders telling their stories into the schools," she says. S'Aida's passion for justice left an impression on the students, and got them talking, said Dayle Schroeder, Program Coordinator for the Regina Folk Festival. "She went around to every grade 7 and 8 classroom and the kids each had to explain something they believed in," she says. "It got them thinking, and it also got a discussion happening within their peer group."

S'Aida stressed that "What a person believes in is a very important part of song writing." she adds, "I think the most special part was that the kids got to speak for themselves."

The social justice-themed workshop, funded in part through the ArtsSmarts program, also allowed students to address school issues like bullying through song writing.

Armbruster, who teaches Kindergarten through Grade 8, approached the Saskatchewan Arts Board with the idea for an ArtsSmarts project last November. "To have a performer in the classroom who sings the blues is powerful," she says. "When you can connect [the students to] an actual person instead of a book, it means so much more."

S'Aida's visit coincided with Black History month, a fact that Schroeder, says was essential. "There's not a lot of cultural diversity in that school, so it was important for students to learn about African Canadian history," she said.

Risa Payant, Arts and learning Consultant for the Saskatchewan Arts Board says, "It was a real collaboration between all the partners involved—collaboration was the key word."

"This project is just one example of how teachers are changing the lives of their students. It's really worth taking the time to get that money into your school and that artist into your classroom," says Payant.

ArtsSmarts is funded by the Saskatchewan Arts Board, the Saskatchewan ministry of education and SaskCulture thanks to the Saskatchewan Lotteries Trust Fund for Sport, Culture and Recreation.