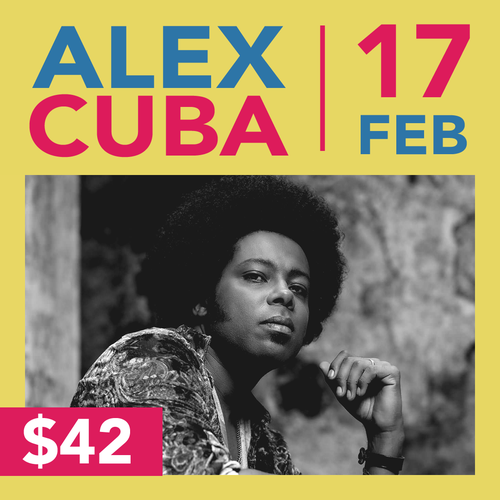 2023
Feb 17
8:30 AM — 11:00 AM
The Lyric Theatre
227 Central Ave N
Swift Current SK
Treaty 4 Territory
Cost: 35
General Admission, all ages, rush seating. Buy before Oct 1st and save the new PST.
Buy Ticket
Blenders Presents Alex Cuba
His sugarcane-sweet melodies, pop-soul hooks and powerful guitar riffs, relinquish a conventional stereotype that exemplifies much of the Latin music landscape.
Born Alexis Puentes in Artemisa, Cuba, was immersed in music at a very young age, joining his father's (respected guitarist and teacher Valentin Puentes) group of 24 guitarists.
In 1999, Alex moved to Victoria, B.C where he recorded an album titled Morumba Cubana alongside his twin brother Adonis, as The Puentes Brothers.
Alex then went on to record his solo debut album Humo De Tobaco in which earned him a Juno award for World Music Album of the Year in 2006.
What followed was 7 more albums, 1 Juno award, 4 Latin Grammy Awards, 5 Grammy nominations, a BMI Latin Award, 2 Socan Hagood Hardy Awards, and incredible recognition on an international level.
In 2019 Alex Cuba embarked on his first ever self produced collection of songs featuring 5 collaborations, this time with Latin American singer songwriters. The album received a Latin Grammy Nomination and performance at the televised Award Show in Miami November 2020.
2021 had Alex recording at home and adding recording engineer to his credits as musician, singer-songwriter, producer. From the healing voice of Grammy Award winning Lila Downs on "Mundo Nuevo", to his colourful collaboration with world-renowned flamenco artist, Antonio Carmona, and commissioning a 13-piece horn band from his native country of Cuba, Alex's vibrant eighth studio album, Mendó, is filled with international collaborations.
The artwork for the album marks another international project, created by an artist in Trinidad and Tobago, Brianna McCarthy, who caught Cuba's eye when he noticed her work on the cover of a book and was drawn to "her unique interpretation of the African diaspora".
Upbeat, acoustic soul, full of optimism and reality, Alex always has a silver lining on melancholy of any form. His musical evolution for years was all about searching for the simplicity and soul in Cuban music – taking apart the complex arrangements, mixing it with North American influences, adopting the melodic simplicity of pop music, looking to Cuban folk traditions for inspiration – he's always exploring, always creating something fresh and new, and always, it seems, getting it just right.
Catch Alex Cuba February 17, 2023 at Blenders! Tickets are $35 until October 1st, then $37 with the new PST, and are available at Swift Current Pharmasave or online at
eventbrite.com
. Doors at the Lyric Theatre will open at 7:30pm and the music begins at 8:30pm. Blenders thanks W.W. Smith for sponsoring this show.
Buy Ticket
2023
Feb 17
8:30 AM — 11:00 AM
The Lyric Theatre
227 Central Ave N
Swift Current SK
Cost: 35
General Admission, all ages, rush seating. Buy before Oct 1st and save the new PST.
Organizer
Accessibility
Wheelchair Accessible
Sight Impairment
Safe and Inclusive Space