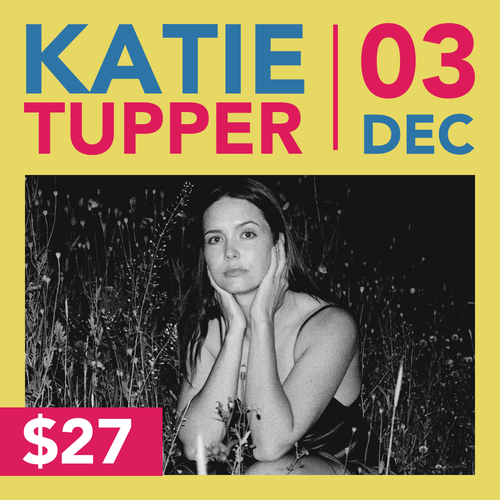 2022
Dec 03
8:30 AM — 11:00 AM
The Lyric Theatre
227 Central Ave N
Swift Current SK
Treaty 4 Territory
Cost: 25
General Admission, all ages, rush seating. Buy before Oct 1st and save the new PST.
Buy Ticket
Blenders Presents Katie Tupper
Beneath the painted hues and infinite prairie skies of Saskatoon -- a city in the heart of Canada -- lies a soulful, creative, spirit that proves there's much more to the so-called 'fly-over states' than grassland and grain silos. Katie Tupper, a 24-year old neo-soul musician, embodies that spirit and is determined to show there's an entire world of boundary-pushing, genre-defying artists at work within the often overlooked region.
On her debut single, "Live Inside," Tupper ruminated on notions of identity and what it means to let someone change your appearance, to surrender into your relationship, and allow your partner to become a piece of who you look like everyday.
"How Can I Get Your Love?" Tupper's second single, rising in the CBC Music Top 20 chart, deals in a blanketing mixture of Neo-soul and exquisite folk, seeming to speak for a region neglected all too often, displaying just how richly her music roots through the native meadows and grasslands (or as she refers to them here, "fields of butter"). It's a song that at once speaks of all the possible partners we miss out on from sheer cluelessness, and ultimately centers around a single, great passion.
Tupper released her newest album, Towards The end, in 2022 which features swelling strings and twinkling keys exquisitely backing up an instantly catchy, syrupy drumlines. Her voice soars over the tracks, telling stories of heartbreak and resentment, the vast openness of the prairies, and digging into that feeling of having so little left to lose that there's hardly anything worth salvaging.
"Saskatchewan's Katie Tupper makes the kind of soul-stained folk that feels instantly familiar, but it's her complex writing — vividly capturing the sights and smells of her home province, like the "fields of butter" on "How Can I Get Your Love?" — that makes her debut EP so anticipated, further calcifying the singer/songwriter's distinct and subtle touch." Exclaim!
"Tupper's smooth, neo-soul delivery is paired with a minimalist sound, often letting her honest songwriting shine in the forefront; definitely recommended for fans of Charlotte Day Wilson or Loony. …we can't wait to hear how she'll continue to grow and expand her sound." CBC Music
Catch Katie Tupper December 3rd 2022 at Blenders! Tickets are $25 until October 1st, $27 after with the new PST, and are available at Swift Current Pharmasave or online at
eventbrite.com
. Doors at the Lyric Theatre will open at 7:30pm and the music begins at 8:30pm. Blenders thanks Pharmasave for sponsoring this show.
Buy Ticket
2022
Dec 03
8:30 AM — 11:00 AM
The Lyric Theatre
227 Central Ave N
Swift Current SK
Cost: 25
General Admission, all ages, rush seating. Buy before Oct 1st and save the new PST.
Organizer
Accessibility
Wheelchair Accessible
Sight Impairment
Safe and Inclusive Space