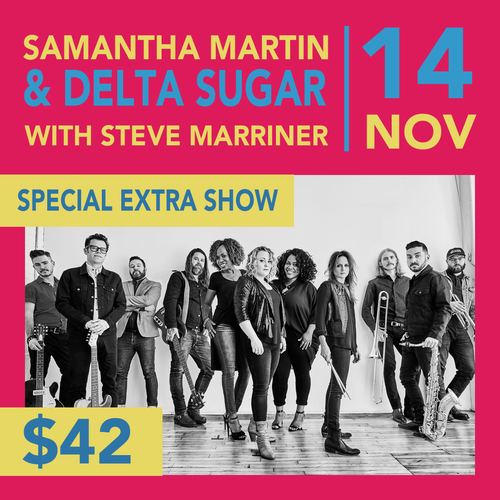 2022
Nov 14
8:30 AM — 11:59 AM
The Lyric Theatre
227 Central Ave N
Swift Current SK
Treaty 4 Territory
Cost: 40
General Admission, all ages, rush seating. Buy before October 1st and save the PST!
Buy Ticket
Blenders Presents Samantha Martin & Delta Sugar with Steve Marriner
With the worldwide pandemic wrecking utter havoc upon the careers of many musicians, Samantha Martin & Delta Sugar elected to use their time off the road to record, mix, and master their latest tour-de-force, the astonishingly powerful, funky, and deeply soulful album The Reckless One.
Martin's first recording was an EP entitled Fade, issued in 2004. A year later she moved to Toronto and in 2008 released her debut full length album, Back Home. The eponymously titled Samantha Martin & The Haggard followed in 2012 before Martin decided to form the gospel and soul-based Delta Sugar.
In the past18 years, Martin has gathered 11 Maple Blues Award nominations, is regularly featured on the CBC, tops the blues charts on Stingray radio, and has graced the stages of all the major Canadian festivals and clubs coast to coast. a Juno nomination (Canada's Grammy Awards) and paved the way for Samantha Martin & Delta Sugar's assault on European club and concert stages.
Martin is the lead singer, songwriter, and focal point of the group. A dynamic front woman, she possesses a stunning voice that is capable of summoning up tidal waves of spine-tingling emotion in one instance while delicately bringing out the nuances of a gut-wrenching lyric in the next. A torrid force of nature, night after night she takes audiences to emotional peaks while leaving them stunned with her sheer pin-you-against-the-wall power.
While Martin is a powerhouse unto herself, the vocal alchemy of Delta Sugar is not the work of a single talent. In combination with what she likes to term her "co-vocalists," the vocal blend that Delta Sugar produces is pure, unadulterated gospel-tinged, neuron-tingling magic where the sum is even richer than the already soul-melting parts.
The first single from Samantha Martin & Delta Sugar's stunning new album, The Reckless One, is a four-on-floor stomping dance track entitled "Don't Have To Be." Sporting a melody that will have listeners singing along, the track features swirling Booker T-inspired organ, a swaggering horn line and Samantha Martin's trademark hurricane-force vocals. Irresistibly catchy, the song has been filling dance floors every night since she started performing it.
One of Canada's busiest artists, Steve Marriner has proven himself to be a versatile and highly skilled musician, songwriter, and producer. Previously performing at Blenders with MonkeyJunk, Marriner returns to present his award winning solo blues tracks.
Get your tickets before we're sold out! Tickets are $40 before October 1st, $42 PST included after, and are available at Swift Current Pharmasave or online at
eventbrite.com
. Doors to the Lyric Theatre will open at 7:30pm and the music begins at 8:30pm.
Reserve tables of 8 are available for $80 plus ticket price on a first come first serve basis. Email
culturalfest.swift@gmail.com
or call Amanda at 305-536-0788 to book yours.
Buy Ticket
2022
Nov 14
8:30 AM — 11:59 AM
The Lyric Theatre
227 Central Ave N
Swift Current SK
Cost: 40
General Admission, all ages, rush seating. Buy before October 1st and save the PST!
Organizer
Accessibility
Wheelchair Accessible
Sight Impairment
Safe and Inclusive Space