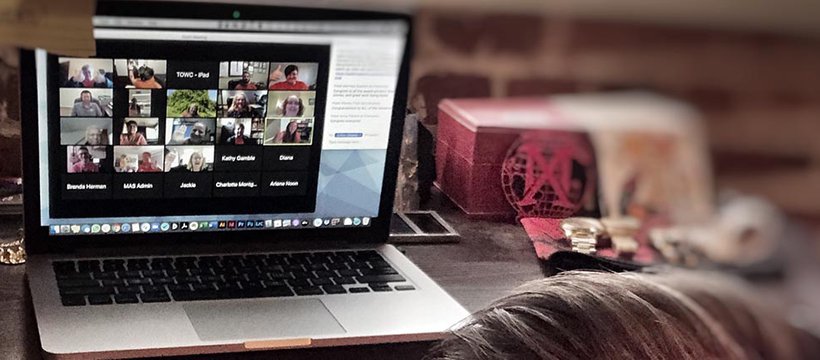 Keeping Museum Conversations Online
In this issue

Engage - Volume 11, Issue 1, Fall 2020
In a year where nothing is going as expected and human connection is challenging, a virtual chat can go a long way.
As the pandemic spread throughout the world, museums across the province had to face mandatory shutdowns and restrictions. When the Museums Association of Saskatchewan (MAS) cancelled its June conference and contemplated programming going forward – it realized its online Community Chat fit right in as a response to the pandemic.
"We felt we needed a way to connect MAS to the museum community and to allow the museum folks from across the province to connect to their peers as well," says Em Ironstar, community engagement coordinator, MAS.
The Community Chat was launched in April, and the agenda for each meeting is usually informal. It starts with relevant and timely updates from the MAS staff about the museum sector. Most recently, the organization has added more programming to the agenda with plans to extend the Community Chat until 2021.
"We decided to invite the folks who had applied to be presenters at the conference to instead present at the chats. We now have a great slate of programming lined up well into the spring of 2021," says Ironstar. "The Community Chat allows people to connect via Zoom on a bi­weekly basis and join museum folks from across the province for an online culture-­sector hangout to catch up, chat, ask questions and seek advice."
The MAS had just started to use Zoom Meetings about two months before the pandemic began so there wasn't a lot of challenges when adapting to the new reality but "it still took some getting used to, especially with a larger number of people."
She adds, "We generally see about 20 to 40 people, which has really been exceeding my expectations honestly. We rarely see less than 20 people logging in and participating and most times, depending on programming and schedules we have seen even higher numbers."
According to Ironstar, MAS hopes to connect to its community with the Chat. "We want our members and stakeholders to feel supported and connected to us and their peers during these challenging times.
We want to offer a space for that connectivity and sharing. We also want to facilitate a space for learning and professional development that is as accessible to as many people as possible."
The Community Chat is held bi­weekly on Wednesdays at 10:00 am. Visit MAS' website at www.saskmuseums.org for more information.
MAS receives operational funding from Sask Lotteries.