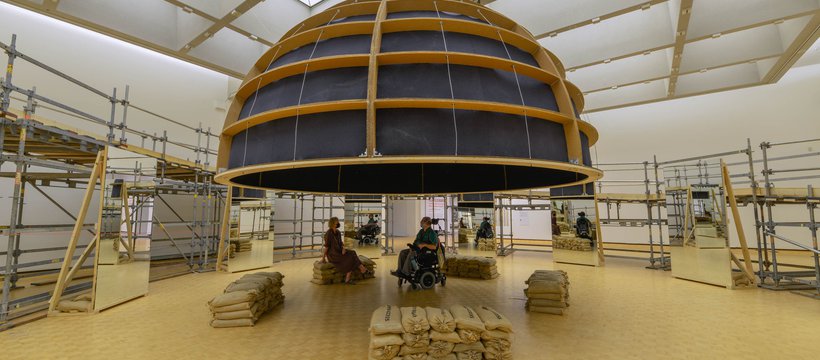 Re-Imagining Cultural Intersections: Exploring Connections Between Indigenous and Newcomer Artists
In this issue

Engage - Volume 12, Issue 1, Fall 2021
Making cross­cultural connections can, not only help bring about shared understanding, but it can help identify solutions to bigger issues. By bringing together artists from different backgrounds – Black, Indigenous, People of Colour (BIPOC), as well as newcomers to Canada, On Cue Performance Hub wanted to create a space for discussion about shared ideas, or intersections, relating to decolonization and socio­cultural realities.
"The project was envisioned to ignite a discussion around collaborations, and practices of working together, from a position of diversity and multiculturalism," says Rania al­Harthi, project coordinator, On Cue Performance Hub.
Another On Cue Project Coordinator, Taiwo Afolabi adds, "Understanding the need to have deeper conversations about both the immigrant community of artists and Indigenous communities, how we could come together and speak about issues that are important to both communities, is what sparked all of this." al­Harthi explains that "The main goal was to find new ways to re­imagine together on this land. Some of the questions they discussed as performing artists included: What opportunities for shared experience do Indigenous, BIPOC, newcomer and immigrant performing artists encounter here? and why do or don't artists want to challenge labels or boxes that characterize their creative work as 'multicultural' or 'traditional arts' and tend to determine venues or organizations that host their work?
She adds that the project participants also explored more fundamental questions, such as, "How do First Nations artists and their experiences and insights connect with artists from settler communities (new or longer term) or other racialized minorities. In particular are there common experiences of genocide and enforced cultural assimilation? And what role do they think performing artists and live performance can play in Truth and Reconciliation?"
The project hoped to create a safe space where artists could have challenging conversations around similar, and different, situations that were facing BIPOC artists and how artists could help to move Truth and Reconciliation forward in addressing these challenges. Project participants included: Joseph Naytowhow, Rania al Harthi, Taiwo Afolabi, Mustafa Alabassi, Ayesha Mohsin, Bongani Musa, and Skyler Anderson.
"The opportunity to have a forum where you can have connections with one another, regardless of background, allows artist to connect with one another and share," says Afolabi. "Joseph [Naytowhow], in particular, was someone I was able to connect with and build this creative, professional network that expands the experience of all who took part in it."
The project, which received funding from SaskCulture's Multicultural Initiatives Fund, was impacted by the closure of venues due to the COVID­19 pandemic, which lead to adapting conversations and connections to digital platforms, such as Zoom. "The pandemic helped us explore the creation of virtual spaces and how to work outside of the in­person experiences," says Afolabi. "The project has grown beyond what was originally intended, to find ways to ensure that it remains an educational piece that people can use and watch after the fact." A video resource will be the next step of that project.
An in­person forum is scheduled to take place in October 2021, inside an exhibition at the Mackenzie Art Gallery in Regina, which highlights inclusion and diversity.
At the end of the project, al Harthi is hopeful that the experiences shared through these conversations will serve as starting point for better cross­cultural understanding.
"Encouraging the community to leave colonial­segregated ways of thinking and working behind us and move together with goodness for all. Believing that we can start again, the right way."
This project received support through SaskCulture's Multicultural Initiatives Fund, funded by Sask Lotteries.