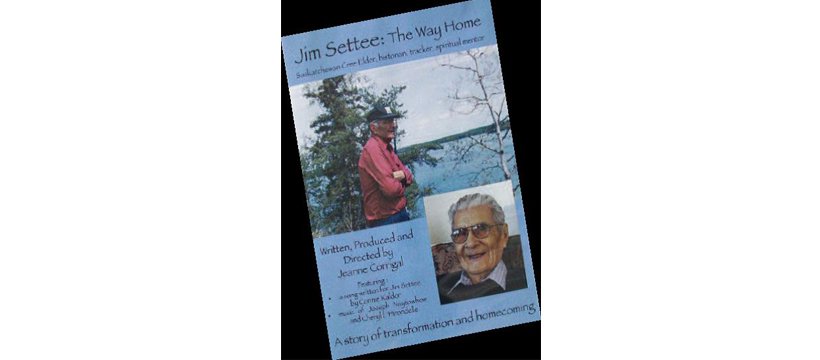 Showcasing the works of Jim Settee: Keeping Saskatchewan stories alive
Thanks to a partnership between Central Urban Métis Federation Inc. and the Métis Cultural Development Fund, Saskatchewan filmmaker Jeanne Corrigal was able to tour her film, Jim Settee: The Journey Home, a documentary film about the life of Elder Jim Settee, through the province. The film was screened at 45 Saskatchewan schools, reaching over 4,210 grade one to postsecondary students and teachers, from La Loche and La Ronge, to Avonlea south of Regina, east as far as Ituna, and west as far as Pelican Lake.

The film documents the life of this well-respected elder and how Jim, an avid storyteller, helped keep oral history alive by connecting people to their own histories and cultures, and bring them home in more ways than in the physical sense.

Jim Settee is renowned for keeping alive the stories of the peoples from across central Saskatchewan, throughout areas such as Montreal Lake, Big River and Sturgeon, Emma, Anglin andWaskesiu Lakes. He worked to "bring communities home" by helping to create the Fish Lake Métis Settlement north of Prince Albert and encouraging settlement of Métis peoples in the area. There is even a story of how in the summer of 1950, a search team in Prince Albert National Park went to him for help after three days of searching for a lost boy. In just two hours, after tracking over six miles of muskeg, Settee found the boy and brought him home safe and sound.

Sadly, Jim Settee passed away in 2009, before the completion of this documentary. But his memory and teachings still live on. At each of her school visits, Corrigal presented her film and facilitated an interactive activity called 'Matchbox Stories'. She describes in the film how Jim would climb up a fire watch tower and throw down matchboxes with little treasures inside to his grandchildren. As part of the classroom activities, Corrigal would use a matchbox and would unpack it for the children to see, connecting the various objects to the different teachings that Settee had passed on to her. The students would then make their own matchbox and fill it with their own teachings or important things about who they were and about those who had made a positive difference in their lives.

When asked to write three words that described the workshop, students wrote things such as: "Métis, amazing, memorable, unforgettable, learning." After having watched the film, many of the Métis students would proudly announce, "I am Métis too!" A grade 5 student wrote: "I am taking home with me a story about wisdom and courage, and about finding your way home."

Corrigal describes how she felt as though Jim was in those classrooms with her in these travels.
The Métis Cultural Development Fund , administered in partnership with Gabriel Dumont Institute, is aimed at preserving the Métis culture and heritage in Saskatchewan.