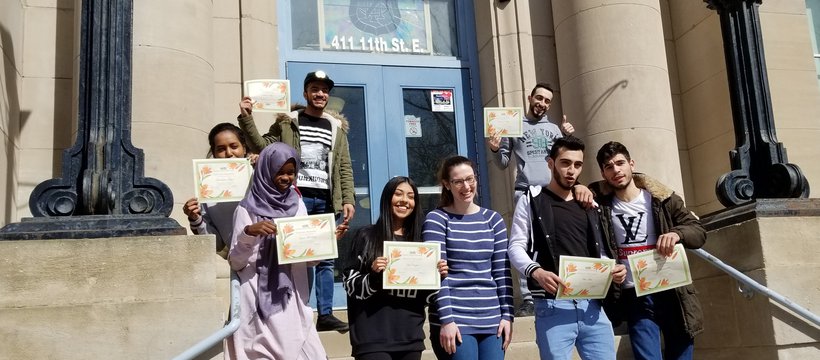 Everyone Has a Story to Tell
The Saskatchewan History and Folklore Society (SHFS) believes that everyone has a story to tell and every story is important. This past year, the organization continued its innovative programming designed to give more and more young people the chance to share their stories with the rest of Saskatchewan.
Its recent program, Living in Saskatchewan Youth Storytelling Project, invites youth from different backgrounds – Indigenous and non-Indigenous – to share their stories.
According to Kristin Enns-Kavanagh, executive director at SHFS, not only did youth get to share their stories, they also had the opportunity to learn performing art skills, and connect and engage with other cultures. Non-Indigenous participants also had the chance to learn about Indigenous cultures.
"Being together and working on art projects creates a great way for all participants to learn, both formally and informally, about Indigenous cultures," she says, adding that one newcomer youth and his father indicated that they did not know about Indigenous protocols such as offering tobacco and had not seen a Powwow dancer before. "They were happy to have that opportunity."
The youth are coached by professional artist mentors, such as Marcel Petit, Danica Lorer, Curtis Peeteetuce, Wanita Bird, and MacKenzie Dawson. Since the project started, Enns-Kavanagh says many youth are developing storytelling skills and sparking storytelling work in communities. "We hope to build skilled storytellers who can start to conduct similar projects on their own, in their own communities, (and) on their own terms."
She shares how the project has helped one youth find her voice. "At the start of year one, we asked the youth, 'what is one thing you'd like to take away from this project?' One young girl wrote, 'confidence to speak up.' At the Year One final celebration, this same girl was a co-presenter with another participant.
When her co-presenter MC unexpectedly dropped out of the public event, she carried on and acted as MC on her own."
While encouraging the youth to tell their stories is important, Enns-Kavanagh says they also help the youth understand the emotional parts of storytelling. "Because we are not set up, within the immediate project team, to support telling stories of traumatic experiences, we encourage the young people to focus on stories about resilience and family connections in their lives," she says. "It is important that participants come away with the confidence to say 'no' to sharing, if they deem it necessary, because sometimes people are asked to share traumatic experiences publicly, without regard to potential emotional impacts."
The three-year project, which began in 2018, has continued through 2019. Since starting the program, SHFS has held over 15 workshops each year, reaching over 80 participants; 20 of these youth have completed the entire program and received a certificate. SHFS, which receives operational funding from Sask Lotteries, is committed to supporting storytelling in the province.